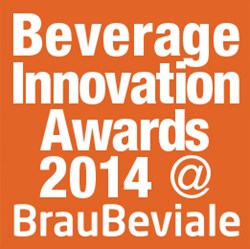 We are looking forward to presenting a fascinating round-up of 2014's step-change innovations at BrauBeviale next November."
Bath (PRWEB UK) 13 December 2013
Since 2003, the Beverage Innovation Awards have celebrated excellence and innovation in the international beverage industry.
Each year, the awards attract entries from all around the world from some of the largest beverage organisations down to small start up companies and entrepreneurs. The 2013 Beverage Innovation Awards attracted 370 entries from over 40 countries and from every sector of the industry from manufacturing, technology, product launches, sustainability and branding. The awards are a highlight of the year for the industry which watches to see which companies are leading in development.
FoodBev Media group editorial director Bill Bruce said: "Following the success of the 2013 awards, staged in Munich, Germany, it is only natural that we would team up with BrauBeviale in Nuremberg, Germany, for the next three years – as the event provides an annual highlight for the constantly evolving European and international beverage industry. As we receive entries in all categories throughout the year, we are looking forward to presenting a fascinating round-up of 2014's step-change innovations at BrauBeviale next November."
Andrea Kalrait, project manager of BrauBeviale, said: "We are very excited that the Beverage Innovation Awards will be held at BrauBeviale for the next three years. The awards attract some of the best product launches, technology, packaging and ingredients innovations in the world and it's fantastic that they will be hosted on our global stage.
The competition will be open for entries early 2014. If you would like to register your interest please email us at awards(at)foodbev(dot)com.