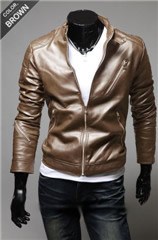 (PRWEB) December 12, 2013
4leafcity.com is a renowned clothing manufacturer and retailer in China. Its products are popular in the global market; they are famous for fashionable designs and outstanding quality. Recently, the company has launched a special offer on its trendy leather jackets for men.
According to the CEO of the company, the promotion is specially launched to help worldwide gentlemen to keep warm and show personalities in the cold winter. The special offer covers all the company's fashionable leather jackets that are featured with handsome looks and individuality. They are well designed by the top experts from 4leafcity.com.
As part of its comprehensive clothing solution, the company has already listed its brand new jacket at its website orderly. The company always puts customer needs in the very first place. Before creating the new products, its researchers spent plenty of time collecting information about the latest fashion trends and customers' requirements.
The leather jackets for men from 4leafcity.com have taken over the globe in recent months; that is mainly because of their affordability. Now, its jackets are offered at discounted prices again. Most of them are priced under $30. Also, discounted shipping fees are provided at its online shop. In the near future, the company will unveil more quality clothes to enrich our product category.
About 4leafcity.com
4leafcity.com was founded in 2009 and serves more than 5000 customers from every part of the world. It is one of the leading suppliers of men's and women's clothes, helping the people worldwide develop self-esteem, confidence and love of learning. For a full list of services and to learn more about 4leafcity.com, please visit http://www.4leafcity.com/product-men-s-leather-jackets-009003002.aspx.