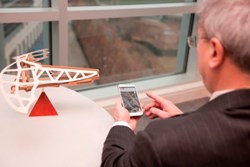 "Through the use of TWO technology, we speculate we can steer a subject's social and eating habits reliably and long enough so that behaviors remain instilled even after the intervention is finished," said Draper's Simone Bortolami.
Cambridge, MA (PRWEB) December 12, 2013
Draper Laboratory is leveraging its mobile technology currently used in military special operations in collaboration with Beth Israel Deaconess Medical Center (BIDMC) in Boston to aid doctors in the war against obesity, a modern pandemic growing at an alarming rate.
Draper's smartphone technology, called "Telewar on Obesity" or TWO, aims to harness artificial intelligence and navigation technologies to modify participants' harmful habits and encourage long-term healthy behavior.
The TWO concept hopes to address obesity's complex set of causes that include peers, nutritional values, and brain signaling. Since hunger and food intake are essential signals to survival, rewards, and well-being, reliable treatment of obesity has been proven difficult. Unlike other therapeutic strategies, TWO addresses this by aiming to modify the brain's reward network by supplying constant feedback, help, and incentives.
"Through the use of TWO technology, we speculate we can steer a subject's social and eating habits reliably and long enough so that behaviors remain instilled even after the intervention is finished," said Simone Bortolami, technical director of the project at Draper.
The current prototype involves a smartphone paired with a Draper-designed navigation device that can operate without access to GPS signals, inside buildings. The system tracks the movements and activities of the participant and offers helpful feedback and advice throughout the day. Potential users for TWO include adults, adolescents, or whole families who have a history of dieting failures and are willing to commit to a healthier lifestyle.
If the participant adheres to TWO's timely advice or reaches a designated treatment goal, they will be offered non-monetary rewards depending on what tends to best motivate them. By inducing more positive habits, TWO can help patients avoid the tendency of reverting back to pre-intervention behavior.
Participants may also achieve more rewards and positive feedback on their behavior by recruiting their friends and families into a newly formed healthy life-style oriented social networks, said Vera Novak, director of the Syncope and Falls in the Elderly (SAFE) laboratory at BIDMC.
TWO's navigation technology will track not only the participants' movements, but also mark problem spots like fast-food restaurants or mall food courts – allowing the system to activate reward reminders or suggest alternatives when the participant nears one of these areas. Draper's navigation expertise will be aimed to enable TWO to use "dead-reckoning" technology to navigate in areas where GPS signals do not reach, like inside the participant's home, while actively logging things like trips to the fridge and time spent on the couch.
The TWO project takes advantage of expertise that Draper has honed in the development of systems that enable first responders and military personnel to operate in areas where GPS signals are unavailable, as well as the Lab's human-centered engineering approach that makes systems more intuitive to end users. One example where Draper used this approach recently is an Android app that Special Forces are using on a prototype basis to designate enemy targets during combat.
Draper scientists and engineers are currently developing the algorithms and software for TWO, and hope to conduct clinical trials in the near future. Doctors at the SAFE laboratory of BIDMC are providing clinical expertise in obesity and chronic pathologies.
Draper and doctors at BIDMC will select participants that have obesity-related diseases like diabetes to assist in the evaluation of the technology. The Lab hopes to expand testing to developing countries where obesity coexists with hunger, posing an even greater challenge to healthcare systems.
Draper Laboratory
Draper Laboratory, which celebrates 80 years of service to the nation in 2013, is a not-for-profit, engineering research and development organization dedicated to solving critical national problems in national security, space systems, biomedical systems, and energy. Core capabilities include guidance, navigation and control, miniature low power systems, highly reliable complex systems, information and decision systems, autonomous systems, biomedical and chemical systems, and secure networks and communications.
Beth Israel Deaconess Medical Center
Beth Israel Deaconess Medical Center (BIDMC) is one of the nation's preeminent academic medical centers. BIDMC is committed to excellence in clinical care, biomedical research and education, and to the health and wellness of our patients and our communities. BIDMC is home to a renowned academic research program where scientific discoveries are helping to transform medical care. The center ranks third in the country for National Institutes of Health funding among independent hospitals. The SAFE laboratory at BIDMC seeks to prevent complications of lifestyle related disorders such as obesity and diabetes, and to find new strategies to prevent age-related function loss.