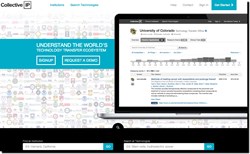 We are building a powerful and truly unique platform that organizes previously disconnected innovation data, starting with the inventor, through technology development to commercialization, and all stops in between
Denver, CO (PRWEB) December 12, 2013
Collective IP, Inc., the global leader in innovation intelligence, featuring the world's most comprehensive and accurate organization of technologies residing in research institutes and companies, announced today that the board of directors has appointed Matt Brewer as chief executive officer. Matt brings over 15 years of business and corporate development start-up experience in emerging technologies, enterprise software, biotech and investment management to his role as CEO. Prior to joining Collective IP Matt founded and was CEO at BaroFold, a protein therapeutics company where he was responsible for the go-to-market strategy of novel protein folding technologies. Matt completed multiple licensing transactions with global healthcare companies and licensure of a novel biologic to treat Multiple Sclerosis. Matt has also held leadership roles at the private equity firm, Crest Asset Management, and at search provider Inktomi (acquired by Yahoo!) where he was responsible for managing partnerships with leading enterprise software companies.
"The Collective IP team's ability to showcase the people side of innovation, from the researchers themselves to their unique inventions, is unprecedented. We are building a powerful and truly unique platform that organizes previously disconnected innovation data, starting with the inventor, through technology development to commercialization, and all stops in between," said Matt Brewer, Collective IP CEO, "Our mission is to enable buyers and sellers of technology to make the most informed decisions and the Collective IP platform provides all the information and tools necessary for new technology innovators and industry consumers to connect in a way never before achievable. I could not be more excited about the opportunities in front of us."
Additionally, Dru Jacobs joins Collective IP as chief marketing officer with over 15 years of experience in enterprise software, demand marketing and communications. Dru has held senior level roles at Rally Software where he was responsible for global demand generation and field marketing ahead of a highly successful IPO and enterprise platform provider BEA systems (acquired by Oracle) where he managed services and support marketing programs.
"As a marketer, an opportunity to help bring to market a solution that looks at a problem space in new and innovative ways is tremendously exciting. Much how LinkedIn has revolutionized professional social networking and recruiting, Collective IP is fundamentally changing how inventors, research institutions and R&D sectors, find, showcase and share licensing and other transactional opportunities."
"We are fortunate to be able to add Matt and Dru's experience to the Collective IP team," said Chris Marks, Managing Director at High Country Venture. "The company has arrived at an important inflection point where experienced leadership is critical to capitalize upon the product momentum and tremendous market opportunities ahead. Both Matt and Dru are technology and marketing visionaries, strong customer focused communicators, and each carry with them proven track records of execution. Furthermore, as an advisor to Collective IP for the past six months, supporting our most recent Series A financing, Matt has accumulated a deep understanding of our products and markets."
About Collective IP
Collective IP, Inc., the global leader in innovation intelligence, features the world's most comprehensive and accurate organization of technologies residing in universities, companies and research institutes. The Collective IP marketplace provides technology transfer and corporate licensing professionals with a unique asset marketing platform, and a novel search solution for business development professionals who focus on asset identification within companies and technology transfer organizations. The Collective IP platform provides unrivaled access to licensing and acquisition opportunities around the globe, saving time and money for those engaged in the opportunity identification of time decaying assets, due diligence, competitive intelligence and intellectual property strategy. For more information visit http://www.collectiveip.com