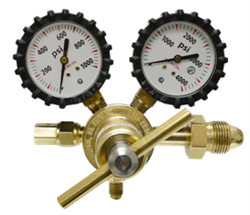 Quality Tools That Go To Work With You!®
(PRWEB) December 12, 2013
The new RHP800 regulator will deliver up to 800 psi and meets the minimum pressure test requirements for R41OA Mini Split installations. Several of the Mini Split manufacturers are now stating in their installation procedures that units must be pressure tested to a minimum of 450 psi and up to 550 psi.
This new Uniweld regulator offers a tremendous value and is priced to be very competitive. This product is also in stock and available for distributor delivery.
The RHP800 Regulator's product release and brochures will be going out later this week, but the product flyer is already available for download HERE.
Thank you for supporting Uniweld Products... "Quality Tools That Go To Work With You!" ...For U.S. Jobs!
Uniweld Products, Inc.
David Foster
Managing Director
HVAC/R & Plumbing Division