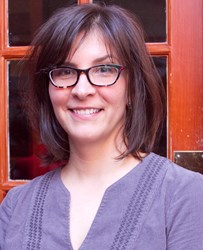 While in residence at the Art & History Museums - Maitland, I will be working on several new panel paintings from the 'Memory of Snow' series. - Leigh Tarentino
Maitland, FL (PRWEB) December 13, 2013
The Art & History Museums – Maitland (A&H) proudly continues its Artist-In-Residence program with Artist-In-Residence TWO: Leigh Tarentino in residence at the A&H for three weeks, beginning December 30, 2013 and continuing through January 17, 2014. Tarentino is the second Artist-In-Residence at the A&H since the implementation of this program, the first formal, nationally competitive Residency program at the A&H since Maitland Art Center founder André Smith's fellowship program, which was funded by Mary Curtis Bok from 1938 through 1957.
The A&H's Artist-In-Residence program celebrates the A&H's Maitland Art Center's history as a place where artists can live and work in an inspiring architectural environment with opportunities for collaboration and experimentation in art. Additionally, artists, instructors, and community members have opportunities to engage with and learn from these nationally acclaimed artists.
"We are pleased with the success of the A&H's Artist-In-Residence program since its implementation last season with our first Artist-In-Residence, Josette Usro," says Andrea Bailey Cox, Executive Director/CEO. "It was inspiring to see the community members, as well as our own artists and instructors, engage with Urso, and we were proud to present these opportunities for learning, creativity, and collaboration. Urso really took advantage of our unique architecture and beautiful surroundings, creating numerous, varied works that reflect her time here; that are now part of our history. We are eager to begin our next residency with artist Leigh Tarentino, and to discover more about her as she creates art and engages with members of the community."
Tarentino, who resides in Rhode Island, creates paintings, works on paper, and digital prints constructed from photographs of the built landscape. She received a BFA in Painting from the Kansas City Art Institute and an MFA in Painting and Printmaking from the Rhode Island School of Design. She is currently an assistant professor at Brown University.
"I will be an Artist-in-Residence at the A&H for three weeks, and I am very much looking forward to the visit," says Tarentino. "While in residence at the A&H, I will be working on several new panel paintings from the 'Memory of Snow' series. This series of small-scale paintings depict snowy winter nighttime scenes of yards, houses, and gardens, often illuminated by winter holiday lights on trees and bushes. The work I do while in residence in January will be included in a solo exhibition in March 2014 at the Falk Gallery at Christopher Newport University in Virginia."
Tarentino continues, "In addition to working on paintings, I plan to take photographs around the campus of the A&H and possibly other areas of Maitland."
The community is invited to take part in two programs with Tarentino:

On Tuesday, January 7 from 6:00 to 7:00 PM, Tarentino presents a discussion on her work and career as an artist. This presentation is free and open to the public.
On Saturday, January 11 from 2:00 to 6:00 PM, Tarentino instructs an Acrylic Painting workshop in Studio 6 of the A&H's Maitland Art Center. At this workshop, students will be introduced to new and experimental ways of working with acrylics. Techniques include image transfers and acrylic skills. The cost is $85.50 for A&H members and $95 for not-yet-members. To register, visit http://www.ArtandHistory.org.
The A&H's Artist-In-Residence program continues from March 3 through March 17, 2014 with Artist-In-Residence THREE: Elysia Mann. Originally from rural Nebraska, Mann moved to Saint Louis to attend Washington University where she received her BFA in printmaking in 2007. Upon graduating, she established the print studio All Along Press, where she currently publishes her prints, limited edition artist books and other collaborative projects.
For additional information on the A&H's Artist-In-Residence program, visit http://www.ArtandHistory.org or phone 407-539-2181.
About the Art & History Museums - Maitland:
The Art & History Museums – Maitland (A&H) is a premier Central Florida cultural institution and community gathering place, combining the best of both art and history. Its unique architecture, beautiful gardens, quality exhibits and programming, and two sites listed on the National Register of Historic Places make it a must visit cultural destination. Our museums offer unparalleled opportunities for enrichment and inspiration. Programming includes art classes and workshops, hands-on history programs, interactive exhibits, professional artists working in their studios, and much more. Our two campuses include a 1937 artists' colony with Aztec and Mayan architectural influences, a Victorian house museum, a working antique tool museum, an interactive telephone museum, and a local history museum. There is something for everyone and each experience is well worth the trip.
The A&H's Maitland Art Center hours are Tuesday – Sunday, 11 AM – 4 PM. The A&H's Maitland Historical Museum, Telephone Museum, Waterhouse Residence Museum and Carpentry Shop Museum hours are Thursday – Sunday, 12 – 4 PM. Visit us online at http://www.ArtandHistory.org.
# # #