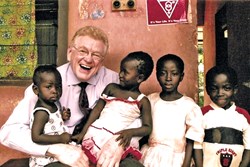 Dr. Jackson, the happiest man in the world.
Evergreen, CO (PRWEB) December 19, 2013
Everybody loves a good story. It's easy to remember a good story. The stories we love and remember are usually short and to the point. Dr. James W. Jackson, a gifted storyteller, has agreed to narrate his award winning "Love and Common Sense" for Brook Forest Voices,an audiobook producer, publisher and distributor. In this collection of 70 short stories, Dr. Jackson draws his unique insights from millions of miles of travel and personal visits to more than 150 countries.
A significant number of the stories in this book have to do with Project C.U.R.E., an organization Dr. Jackson founded as a vehicle to take donated medical supplies and pieces of equipment to more than 125 countries around the world. Thousands of people are alive today as a result of the indefatigable efforts of Dr. Jackson and more than twelve thousand volunteers in the United States alone. These short stories give lucid and dramatic insights into the activities of Project C.U.R.E.
Dr. Jackson has received worldwide recognition and awards, including the US Department of State's highly coveted Florence Nightingale Award. He has received the International Man of the Year Award (1992), and the Saavy Award (1998), and was even crowned a Royal African Chief in Nigeria. "Love and Common Sense" is currently available as a hardback book with the audiobook scheduled for release April 14, 2014.
About Brook Forest Voices: a complete audio production studio located just west of Denver in Evergreen, CO, specializing in audiobook narration, production and publishing. BFV is designed to help large and small publishers, as well as authors, with all their audio needs. Publishers and authors wanting to learn more can visit http://www.brookforestvoices.com or contact Jaime Andrade, BFV Business Manager at 303-670-4145.