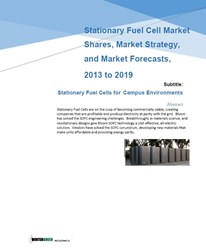 Rockville, MD (PRWEB) December 17, 2013
Stationary Fuel Cells: Market Shares, Strategies, and Forecasts Worldwide, 2013 to 2019
WinterGreen Research announces that it has published a new study Stationary Fuel Cell Market Shares, Strategy, and Forecasts Worldwide, 2013 to 2019. The 2013 study has 553 pages, 238 tables and figures. Worldwide markets are poised to achieve significant growth as the Stationary Fuel Cells used to provide distributed power for campus environments achieve better technology and economies of scale. They have achieved grid parity in many cases. They improve and lower energy costs. They threaten to erode utility profitability.
Stationary Fuel Cells are on the cusp of becoming commercially viable, creating companies that are profitable and produce electricity at or below parity with the grid, giving every user alternative to the grid. Bloom Energy has solved the SOFC engineering challenges. Breakthroughs in materials science and revolutionary designs give Bloom SOFC technology a cost effective, all-electric solution. Vendors have solved the SOFC conundrum, developing new materials that make units affordable and provide energy device economies of scale and support for wind and solar renewable energy sources.
Stationary fuel cells represent the base for distributed power generation worldwide. No more new coal plants, no mare extensions to the grid. Distributed power has become mainstream. Distributed generation (DG) refers to power generation at the point of consumption.
To order this report:
Stationary Fuel Cells: Market Shares, Strategies, and Forecasts Worldwide, 2013 to 2019
Contact: Shauna
800.298.5699
Customerservice(at)marketresearch(dot)com
WinterGreen Research
WinterGreen Research, founded in 1985, provides strategic market assessments in telecommunications, communications equipment, health care, Software, Internet, Energy Generation, Energy Storage, Renewable energy, and advanced computer technology.
About MarketResearch.com
MarketResearch.com is the leading provider of global market intelligence products and services. With research reports from more than 720 top consulting and advisory firms, MarketResearch.com offers instant online access to the world's most extensive database of expert insights on global industries, companies, products, and trends. Moreover, MarketResearch.com's Research Specialists have in-depth knowledge of the publishers and the various types of reports in their respective industries and are ready to provide research assistance.
Follow us on Facebook: http://www.facebook.com/marketresearchdotcom
Follow us on Twitter: http://www.twitter.com/marketresearch_
Stationary Fuel Cells: Market Shares, Strategies, and Forecasts, Worldwide, 2013 to 2019 - Table of Contents:
1 STATIONARY FUEL CELL MARKET DYNAMICS AND MARKET DESCRIPTION
2. STATIONARY FUEL CELL MARKET SHARES AND MARKET FORECASTS
3 STATIONARY FUEL CELL PRODUCT DESCRIPTION
4 STATIONARY FUEL CELL TECHNOLOGY
5 STATIONARY FUEL CELL COMPANY PROFILES