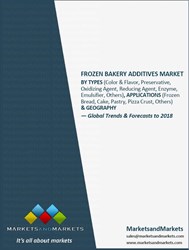 Rockville, MD (PRWEB) December 19, 2013
Frozen Bakery Additives Market by Types (Color & Flavor, Preservative, Oxidizing Agent, Reducing Agent, Enzyme, Emulsifier, Others), Applications (Frozen Bread, Cake, Pastry, Pizza Crust, Others) & Geography - Global Trends & Forecasts to 2018
The global frozen bakery additives market is growing at a very rapid pace. Additives such as preservatives, antioxidants, emulsifiers & stabilizers, colors, and flavor enhancers have attracted attention over the years.
This report provides a study on the global frozen bakery additives market. This research report categorizes the global market for frozen bakery additives based on types, applications, and geography. It estimates frozen bakery additives' demand for global as well as different regional markets. Market revenues have also been identified for all regional markets and segmented on the basis of product types and applications.
This report provides a comprehensive analysis of the frozen bakery additives market, which is witnessing steady growth because of its diverse product portfolio. Frozen bakery additives such as colors & flavors, emulsifiers, enzymes, oxidizing agents, reducing agents, and other additives have been identified in the report. Other additives comprise of the largest share of the frozen bakery additives market. In addition, emulsifiers also account for the second-largest share of the market due to its function of increasing shelf life and improving the structure of the products.
To order this report:
Frozen Bakery Additives Market by Types (Color & Flavor, Preservative, Oxidizing Agent, Reducing Agent, Enzyme, Emulsifier, Others), Applications (Frozen Bread, Cake, Pastry, Pizza Crust, Others) & Geography - Global Trends & Forecasts to 2018
Contact: Shauna
800.298.5699
Customerservice(at)marketresearch(dot)com
MarketsandMarkets
The MarketsandMarkets edge: Worldwide, market research reports are primarily sold for numbers, market segmentation and competitive landscape, within the business leaders. The analyst working with MarketsandMarkets come from the renowned publishing houses and market research firms globally adding their expertise and domain understanding.
About MarketResearch.com
MarketResearch.com is the leading provider of global market intelligence products and services. With research reports from more than 720 top consulting and advisory firms, MarketResearch.com offers instant online access to the world's most extensive database of expert insights on global industries, companies, products, and trends. Moreover, MarketResearch.com's Research Specialists have in-depth knowledge of the publishers and the various types of reports in their respective industries and are ready to provide research assistance.
Follow us on Facebook: http://www.facebook.com/marketresearchdotcom
Follow us on Twitter: http://www.twitter.com/marketresearch_
Frozen Bakery Additives Market by Types (Color & Flavor, Preservative, Oxidizing Agent, Reducing Agent, Enzyme, Emulsifier, Others), Applications (Frozen Bread, Cake, Pastry, Pizza Crust, Others) & Geography - Global Trends & Forecasts to 2018 - Table of Contents:
1 Introduction
2 Executive Summary
3 Market Overview
4 Industry Analysis
5 Market Analysis
6 Frozen Bakery Additives Market, By Type
7 Frozen Bakery Additives Market, By Application
8 Frozen Bakery Additives Market, By Geography
9 Competitive Landscape
9.1 Introduction
9.2 Most Preferred Strategy - New Product Launch/Development
9.3 Mergers & Acquisitions
9.4 Agreements, Partnerships, Collaborations & Joint Ventures
9.5 New Product Launches/Developments
9.6 Expansions & Investments
10 Company Profiles (Overview, Financial*, Products & Services, Strategy, And Developments)