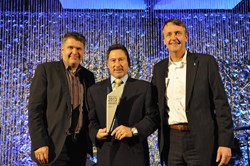 New York (PRWEB) December 16, 2013
OneTravel has been honored by WestJet, Canada's most preferred airline, as its #1 USA Tour Operator for 2013. Lyell Farquharson, Vice President of Sales and Marketing, and Bob Cummings, Executive Vice President for WestJet, presented the award to Tom Spagnola, Senior Vice President of Supplier Relations at OneTravel.
"It is an honor to receive such a high accolade from WestJet," said Spagnola for OneTravel. "We will continue to provide our customers with a wide selection of routes to and from Canada, while helping promote WestJet flights."
On December 2, 2013, WestJet, WestJet Vacations, and Walt Disney Parks and Resorts introduced their very own custom-painted aircraft featuring Mickey Mouse as Sorcerer Mickey. To search and book flights from Canada to Orlando, Fla. or Los Angeles, Calif. visit OneTravel's WestJet page.
About OneTravel: OneTravel simplifies the travel shopping experience by combining value-driven deals with effortless booking solutions for discounted flights, hotels, cruises, car rentals and complete vacation packages in one convenient portal. OneTravel's Low Fare Promise guarantees only the best deals, ensuring customers receive the greatest possible value as they fly, stay and experience – together! Visit http://www.onetravel.com or contact 866-883-0908 to book travel.
About WestJet Airlines: WestJet Airlines was founded in 1996 and is Canada's most preferred airline. Headquartered in Calgary, Alberta, the airline's mission is to enrich the lives of everyone in WestJet's world by providing safe, friendly and affordable air travel to 86 destinations in North America, Central America and the Caribbean.