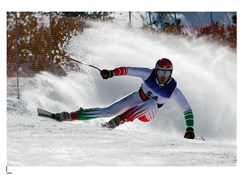 East Hartford, CT (PRWEB) December 13, 2013
The peak of ski season is quickly approaching and many travelers have begun planning their winter ski getaways. A hopeful economy and the 2014 Winter Olympics are sure to increase the number of individuals planning ski trips across the country. Official figures are already showing the number of skiers planning a trip to the slopes is almost 5 per cent higher than in the 2012/2013 travel year.
While planning, it is important to remember that the winter months are one of the riskiest times to travel considering the high chance of disruptions due to unexpected winter storms causing travel delays and cancellations. Ski travel also puts travelers at an even greater risk of having an accident causing a major injury while away. Depending on the destination, it is important to remember if an accident occurs, the individual may not be covered under an independent insurance policy. It is crucial that the correct coverage is purchased in order to protect themselves as well as travel investments, and important to ensure suitable insurance coverage as the cost of medical treatment and repatriation following a skiing accident can easily cost a traveler thousands of dollars.
Travel Insured International urges travelers to invest in a Worldwide Trip Protector plan, along with the additional optional Sports Coverage upgrade, in order to protect against Baggage Delays and Emergency Medical Expenses incurred due to ski injuries.
Protecting Your Safety
Travel Insured's Worldwide Trip Protector plans include different Medical Expense coverage options. Depending on the plan selected, medical benefits containing limits from $10,000 to $50,000 can be covered, and Emergency Medical Evacuation coverage ranges from $100,000 to $1 million. The Worldwide Trip Protector and Trip Protector Gold plans include Accidental Death & Dismemberment coverage for accidents occurring during the ski trip.
In addition, the optional Sports Coverage includes Medical Expense coverage for extreme sports activities that are not covered under the normal policies. Every Travel Insured International plan comes with inclusive Worldwide Emergency Medical Assistance, available 24/7 from anywhere, and the Worldwide Trip Protector and Trip Protector Gold plans include 24/7 Concierge Assistance and ID Theft Recovery Assistance.
Protecting Prepaid Costs
Trip Cancellation coverage is provided in each type of Worldwide Trip Protector policy if inclement weather forces your carrier's transportation service to stop operating for 24 hours or more. For example, if a winter storm causes the airport to close before your departure and will not re-open within 24 hours, then your non-refundable trip costs that you have previously paid will be covered.
With Trip Delay coverage, Worldwide Trip Protector or Trip Protector Gold comprehensive plans provide up to $200 per day for unplanned travel expenses caused by a common carrier delay of 6 hours or more hours, including for inclement weather, a natural disaster, lost or stolen travel documents or money, even an unannounced strike. Worldwide Trip Protector Lite or Lite Expanded covers the same expenses of up to $100 per day when the common carrier delay is 12 hours or more.
Travel Insured International
52-S Oakland Ave.
E. Hartford, CT 06128-0568