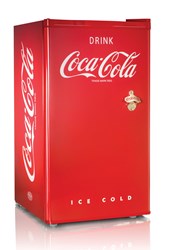 "No one likes to worry about keeping extra tools like a bottle opener around. With this unit, consumers have got everything they need in one absolutely classic-looking package."
Green Bay, WI (PRWEB) December 13, 2013
It's the real thing with real convenience! Nostalgia Electrics' latest refrigerator, the Coca-Cola Compact Refrigerator with Bottle Opener, takes the nostalgia of glass-bottled beverages and makes it modern and convenient.
Naturally, the new unit is that classic Coke red that is recognized all over the world. Its sturdy aluminum body includes a refrigerator compartment with two slide-out shelves as well as a freezer compartment, all illuminated by the bright interior lighting. The highlight feature is the namesake chrome bottle opener, so consumers can easily take an ice cold Coca-Cola out of the fridge and pop the cap off right on the front of the unit.
"It's the last word in nostalgic convenience, period," says Gregg Bond, President of Nostalgia Products Group. "No one likes to worry about keeping extra tools like a bottle opener around. With this unit, consumers have got everything they need in one absolutely classic-looking package."
Inside the door, consumers will find two rack shelves situated above a soda can rack and a sturdy shelf perfect for holding a two-liter bottle of Coke. With ample shelf space, lighting and options for customization, the Coca-Cola Compact Refrigerator with Bottle Opener is a perfect blend of old-school and modern design.
"Like all Nostalgia Electrics products, this is a combination of classy design and consumer convenience," says Bond. "With every new unit we ask ourselves how we can make the customer experience better, and how we can make their entertaining or daily lives more fun."
The Nostalgia Electrics Coca-Cola Compact Refrigerator with Bottle Opener is now available online, with a suggested retail price of $199.99.
RRF300SDBCOKE Product Features:

Chrome bottle opener on front of unit
Adjustable feet
Bright interior lighting
Multiple interior shelves
Easy to set up and operate
The RRF300SDBCOKE by Nostalgia Electrics is distributed by:
Nostalgia Products Group, LLC
1471 Partnership Dr.
Green Bay, WI 54304-5685
About Nostalgia Products Group, LLC:
Nostalgia Products Group, LLC, designs, manufactures and markets the Nostalgia Electrics brand of small electric appliances, a wide range of innovative products with a history of exciting consumers and retailers alike.
NPG products are sold through all major channels of distribution from both within the United States and to over 30 other countries. Retail and e-retail sales include all major department store chains, home shopping networks, catalogs and e-commerce companies, and the company's products carry the ETL, UL, GS and SSA electrical approvals internationally. In addition to product development, NPG's services include sales, marketing, warehousing and distribution. For more information, please visit Nostalgia Products Group, LLC online at: http://www.nostalgiaelectrics.com.
For more information, please contact:
Sales and Marketing
Nostalgia Products Group, LLC
Phone: 920.337.9800 Fax: 920.337.9984 E-mail: gbond(at)nostalgiaelectrlcs(dot)com
For media inquiries, please contact:
Karilyn Robinson
Nostalgia Products Group, LLC
Phone: 805.337.9800 x153 E-mail: krobinson(at)nostalgiaelectrics(dot)com