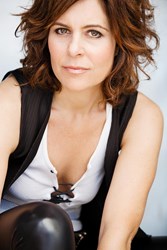 Fans of the show are in for a real surprise this upcoming season
Los Angeles, CA (PRWEB) December 17, 2013
Justified follows U.S. Marshal Raylan Givens (Timothy Olyphant), a modern day 19th century-style lawman set in rural Kentucky who enforces his brand of justice. The hit FX show is known for its complex characters, adrenaline-filled twists and downright grittiness.
Niemi will be recurring as "Sally," an inmate in Harlan County Jail and will make her first appearance in episode 4 titled "Over The Mountain" airing January 28th, 2014. "Sally is a good ol' girl who will do whatever it takes to survive. Fans of the show are in for a real surprise this upcoming season," says Niemi. Season 5 of Justified will premiere on Tuesday, January 7th, 2014 @ 10PM on FX.
This past year has been a busy one for Niemi. She made Guest Star appearances in top tier television shows including Bones and Rizzoli & Isles. She was also on the big screen earlier this fall in the Steve Jobs' biopic JOBS as well as the indie comedy horror Chastity Bites (both currently playing ONDemand this month). "This has been a wonderful year and am excited about what's to come here in 2014."
Niemi is repped by Jason Baerg @ JDM Talent and The Glick Agency.
For more info go to http://www.aboutlauraniemi.com