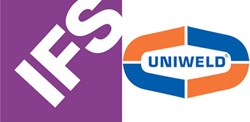 Quality Tools That Go To Work With You.
Fort Lauderdale, Fl (PRWEB) December 13, 2013
Several companies attending the InFocuS User Group Fall 2013 Meeting at Uniweld arrived on November 11th and met for dinner at the Rustic Inn, a local favorite for seafood dining.
The InFocuS User Group Meeting kicked off with an in introduction to the Uniweld Products, Inc. and a brief history of Uniweld and its growth over the years, presented by David Pearl II, President of Uniweld. Following Introductions, InFocus attendees were taken on factory tours lead by David Pearl II (President), Doug Pearl (CEO), and Tony De La Torre (Company Planner).
IFS InFocuS User Group Meetings are held quarterly and are a great opportunity to educate, network, and exchange ideas between IFS users, potential users, and representatives. The IFS user group meeting was attended by several companies from across the nation and Uniweld would like to thank each of those companies.
Thank you:

Astra, Inc.
Cedar Bay
Cleaver Brooks, Inc
Durham Manufacturing
eNSYNC Solutions
Enterprise Consulting, Inc.
Gables Engineering
IFS North America
Mistras Group
Radley Corporation
Thoratec Corporation
Yorktel
Presentations:
o IFS Apps 8 Foundation Sp1+ enhancements, new server standards for IFS, and new Ifs mobility apps and features. -Presented by Bob Corrigan of IFS North America
o Manufacturing and planning processes at Uniweld. -Presented by Tony De Le Torre of Uniweld Products, Inc.
o Uniweld's IFS Pricing Modifications. -Presented by Debbie Felipe (Executive Assistant) of Uniweld Products, Inc.
o Backbone technology and IT practices at Uniweld. -Presented by Chuck Witt (IT Manager) of Uniweld Products, Inc.
We would also like to send a special thanks to Rick Bucchino (@bucchinorick) and Bob Corrigan (@corriganc) from IFS for coming to Uniweld's corporate headquarters and helping to make this a successful event.