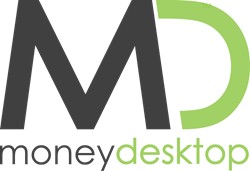 The MoneyDesktop team has earned the company recognition and respect not only in the FinTech space, but across the entire internet community.- Bret Skousen, VP of Marketing and PR for MoneyDesktop
Provo, Utah (PRWEB) December 13, 2013
MoneyDesktop has been honored among professional advertising companies and other creative organizations with three W³ Awards, taking home one gold and two silver recognitions. The award, in its eighth year, recognizes creativity in website, video and marketing programs on the internet. The MoneyDesktop.com website was a gold winner in the category of "Financial Services" and also won silver recognitions in the categories of "Visual Appeal" and "Business to Business."
Launched in May 2013, the revamped website showcases MoneyDesktop's commitment to excellence and superior custom products across all platforms. The guiding principle of the site's design was a mandate to deliver an unmatched user experience and user interface to the FinTech marketplace. With cutting edge animation and professional grade videos and photography, the website is a testament to MoneyDesktop's desire to create only the most interactive and appealing products.
"This is the second time MoneyDesktop has been recognized for excellence in design within our industry and across all others," said Bret Skousen, vice president of marketing and public relations at MoneyDesktop. "Competing against professional design teams and agencies, the MoneyDesktop team has earned the company recognition and respect not only in the FinTech space, but across the entire internet community."
MoneyDesktop's website offers visitors a visually appealing and interactive experience on par with the company's PFM and marketing solutions. The website implements the latest developments in web design and functionality, including multi-media elements and a responsive design. Additionally, the site provides the company's clients and partners access to MoneyDesktop Client Services (MDCS), the company's newest strategic division which offers employee training, creative marketing, technical support and other services to help institutions improve PFM adoption. To check out the new site, visit http://www.moneydesktop.com.
What:
The W³ Awards honors creative excellence on the web, and recognizes the creative and marketing professionals behind award winning websites, web video and online marketing programs. The awards are the first major web competition to be accessible to the biggest agencies, the smallest firms and everyone in between. With thousands of entries annually, the W3 Awards is sanctioned and judged by the International Academy of the Visual Arts (IAVA), an invitation-only body consisting of top-tier professionals of acclaimed media, advertising and marketing firms. For more information, visit http://www.w3award.com.
How:
To determine winners, entries are judged based on a standard of excellence as determined by the IAVA and are scored on a ten point scale according to the category entered. Fewer than 10 percent of all entries (more then 4,000 submissions) are selected as gold winners, with other outstanding entries recognized as silver winners.
About MoneyDesktop
Located in the heart of Utah's Silicon Slopes, MoneyDesktop is redefining the way millions of people interact with their finances by developing award-winning personal financial management (PFM) tools, data-driven analytics and marketing technologies. As one of the fastest-growing financial technology providers, MoneyDesktop integrates their solutions directly into online and mobile banking, core and payment providers—positioning banks and credit unions as the financial hub for their account holders. MoneyDesktop currently partners with more than 400 financial institutions and 29 online banking, core and payment network providers.