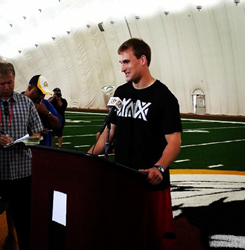 "I just prepare every game like I'm the starter, just so I have to be ready because I don't want to get called into a game like this game and have not prepared the way I need to," Cousins said after Sunday's game. "
Washington D.C. (PRWEB) December 15, 2013
Washington Redskins Coach Mike Shanahan will be starting Lynx Shreds Athlete Kirk Cousins for the remainder of the season. Shanahan says that Griffin has been hit too many times in recent games and wants to ensure that the quarterback makes it into the off-season healthy. The torn ligaments in his knee from last year's season have kept him from playing his best this year and after a 3-10 record the Redskins need to make a change. Although there is only three games left this season Cousins says he is going to make the best of it.
"I just prepare every game like I'm the starter, just so I have to be ready because I don't want to get called into a game like this game and have not prepared the way I need to," Cousins said after Sunday's game. "So I'll prepare the same as every week and do whatever I'm coached to do."
"These aren't the circumstances you want to be in when you start the season," Cousins said. "But, good or bad, I've got to be ready to go. I can't control a lot of things going on, but I can control my preparation and I can control how I lead my team this weekend, so I'm going to do that. ... Certainly it's human nature that you're going to have a heightened sense of urgency now that you know. But it shouldn't change anything that I'm doing to get ready."
Last year, Cousins led the team to an overtime victory against the Super Bowl Champions, the Baltimore Ravens, after Robert Griffin III came out of the game due to injury. The rookie backup then led the Redskins to a win in week 15 against the Cleveland Browns. This year, Cousins has had only two appearances for clean up duty this season but plans to win the last three games of the year now that he is starting.
Cousins is a Lynx Shreds Athlete along with several other current NFL, NBA, & MMA stars that promote the clothing brands' lifestyle and vision. "The Lynx vision lives through pushing your friends/teammates and yourself to get better and go bigger and harder in every physical activity that you do. Putting in the work and time to improve at your sport and following your passion to the extreme." Now since Cousins will get this opportunity to start, he will do just that.
That vision is the heart and soul behind Lynx Shreds: "The brand isn't just about the clothing but about what you are doing and where, it's also who you are doing it with and giving it everything you've got. Pushing yourself and your friends to make each other the best you can possibly be. The company is creating apparel that is constantly changing to meet the needs of the hard-charging athletes such as Kirk, doing what they love."
With this vision in mind, Lynx Shreds produces MMA gear, along with surf and skate clothing, and other extreme sports lifestyle themes. If you or other athletes you know can relate to the Lynx Shreds vision, then Lynx apparel would be the perfect fit. Lynx is now running a Christmas sale on their website listed below.