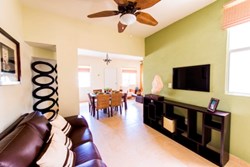 "The demand for these units among American and Canadian buyers has been extraordinary."
Playa del Carmen, Mexico (PRWEB) December 16, 2013
American Realty announced today that the "Tropical" model condo/townhome in the popular Caribbean Living master planned community in Playa del Carmen has sold out. The 'Tropical' floor plan has been the best selling model in the entire Caribbean Living development.
Caribbean Living, the 2500 unit master planned condo and townhome development in the new suburbs of Playa del Carmen, Mexico is the most successful real estate development in the entire Caribbean, with over 600 units built, sold and delivered so far in 2013.
"The demand for these units among American and Canadian buyers has been extraordinary," said Steve Didier, Chief Marketing Officer for American Realty & Development. "We are trying to get the builder to allocate more lots for this particular floor plan simply because of its immense popularity, but we won't know if we're going to get them until the beginning of next year."
The 'Tropical' floor plan is a 2 story, 2 bd/2 ba townhome with a private yard that was available for $79,000 USD. There are a total of 6 different models available in the development – 2 condominium models and 4 townhome models ranging from roughly 500 sq ft to over 2000 sq ft and starting at $59,000 USD.
"We really aren't surprised that it sold out this quickly," says Sam Bradley, broker at American Realty. "The entire project is tailor made for our American and Canadian clients seeking to make the retirement dollar go much further, and with Playa del Carmen being the fastest growing city in Latin America for 11 years, the investment opportunity this presents isn't lost on our buyers."
American Realty & Development forecasts the remainder of the Caribbean Living development will be sold out and delivered by the end of 2014.