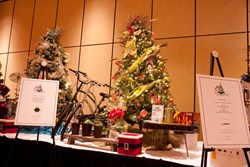 CSG is pleased to continue promoting Child Guidance Center Orange County.
Newport Beach, CA (PRWEB) December 15, 2013
Contract Services Group, Inc. (CSG), a leading building services contractor, joined the 31st Annual Holiday Tree Fantasy Event funding critical Veteran & Military Children's Treatment Program at the Child Guidance Center.
The 31st Annual Holiday Tree Fantasy Event raised just over $100,000 from support throughout Orange County community and reports adding nearly a third more guests from last year.
The event on December 8th 2013 featured a holiday luncheon, entertainment, live and silent auctions and a raffle of decorated trees and gifts. This annual tradition brings together many established companies from throughout Orange County. The event was held at the Balboa Bay Club in Newport Beach, CA.
"CSG is pleased to be able to continue sponsoring this event to support the programs at Child Guidance Center," said John Pearce, CEO for Contract Services Group, Inc.
Child Guidance Center provides the highest level of comprehensive, therapeutic treatment services to serve over 1200 children and families each week in Southern California.
About Child Guidance Center:
Founded in 1967 by a group of parents and mental health professionals, Child Guidance Center (CGC), a 501(c) 3 non-profit organization, helps children and parents throughout Orange County achieve healthier, better balanced lives through innovative counseling, treatment and educational enrichment programs.
About Contract Services Group, Inc.:
CSG cares to make a difference in the community. CSG is proud of its business partnerships that make giving possible. Contract Services Group, Inc. is an industry leading facilities services contractor with 40 years experience providing commercial janitorial, window cleaning and temporary labor services throughout California, Nevada and Arizona. CSG also designs and installs window washing systems nation wide. For further information, please visit CSG at http://www.csgcares.com.