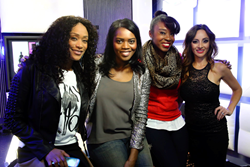 Los Angeles, CA (PRWEB) December 16, 2013
Reality star, actress and business entrepreneur Tami Roman addressed the recent report that she uses skin lighteners in an exclusive interview on Black Hollywood Live network's Fashion 411 show, which is hosted by Diona Vaughan, Erika Garcia-Rojas and Courtney Stewart. Roman says, "I absolutely do not bleach my skin. I am a fair skin woman and I feel no need to do that what so ever."
"I think that most African American women are secure with themselves that they don't need to do that."
Roman shared with the Fashion 411 hosts how reality TV has increased her business venture opportunities stating, "With reality TV the doors are open, people gravitate towards you with ventures. I wanted to pick something that was organic to me. I'm not the type of person that just sticks my name on something just because you're offering me a lot of money."
Roman continues, "Because of reality TV, I've been able to build my own brand, now I have a cosmetic line 'TR Love cosmetics', a hair line (TamiRomanHair.com) and we just inked a deal with Walgreen's."
The Basketball Wives franchise (one of VH-1's highest rated reality shows) has been the topic of many conversations on the shows portrayal of African American women imaging on TV and the subject of bullying. "We had a rough season, season 4 on Basketball Wives. We came under a lot scrutiny about how we were portraying African American women in particular," said Roman.
Later she states, "For me it hit me really hard because I'm not that person. For the first time I felt like I've been set up! You know what happened on that island and you stretched it out for 3 weeks when it took all of 15 minutes and you made it this whole big production and it kind of messed with my psyche... People coming at me saying I am a bully and I'm so not that person."
When asked if she had any regrets from past seasons of Basketball Wives Roman firmly says, "I regret the situation with Meeka [Claxton] and us getting into that big altercation. A lot of people think that I should feel some kind of way about the situation with Kesha [Nichols], but I know what that situation was and I know what really happened, so I don't feel sorry about that in any way, I've apologized for that... But if I could take a moment back it would be with Meeka. We succumbed to what everyone else was saying what our relationship should be and we let that take root and thrive rather than us talking and being genuine."
With the recent announcement that Basketball Wives star Evelyn Lozada was leaving the reality series and cancellation rumors, many fans were left wondering if the show would continue and if they would see their favorite cast members again.
Tami insured the Fashion 411 hosts that they would not see the last of her. "We are working on The Roman Empire, which is the spin off show for me following my life, my daughters, my friends and everything I'm building" explained Roman.
Sounds like 2014 is going to be an exciting year for The Tami Roman Empire!
Links to Tami Roman's full appearance can be found at:
Website: http://blackhollywoodlive.com/2013/12/13/bhl-fashion-411-tami-roman-december-9th-2013/
ITunes: https://itunes.apple.com/us/podcast/black-hollywood-live-fashion/id676530394?mt=2
YouTube: http://youtu.be/zxjlVrYfow8
Black Hollywood Live's Fashion 411, hosted by Diona Vaughan, Erika Garcia-Rojas and Courtney Stewart airs live every Friday and is available for free downloads on iTunes and BlackHollywoodLive.com and also viewable on YouTube. Not only are the hosts of Fashion 411 passionate about fashion, collectively they bring to the table over 10+ years experience working in the fashion industry in different capacities. Every week the show highlights fashion from a celebrity, business, consumer and social media perspective. Past guests have included celebrity stylist Daniel Musto, model/actor Sam Sarpong and fashion blogger/recording artist Francesca Ramirez.
Black Hollywood Live is the world's first online broadcast network dedicated to African American entertainment news. Black Hollywood Live programming features insider information, insightful commentary and in-depth interviews with some of Hollywood's biggest stars and influencers. For more information about the network visit BlackHollywoodLive.com.