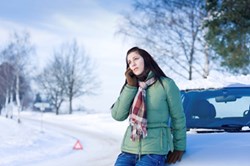 Lincoln, RI (PRWEB) December 16, 2013
Snow, sleet and ice can lead to treacherous driving conditions, so it's important for motorists to be prepared when they hit the road during the wintertime. That's why Amica Insurance is sharing tips to help keep you and your loved ones safe this season.
Be sure to check the weather before heading out, and always have plenty of gas in the car's tank. It's also a good idea to have a charged cell phone and a survival kit ready in case of emergency. The kit should contain bottled water and nonperishable food, prescriptions and other medications, a first-aid kit, blankets and extra clothing and specialty items for infant, elderly or disabled family members.
Amica is offering these additional car maintenance tips from the National Highway Traffic Safety Administration (NHTSA):

Inspect windshield wiper blades, and replace them if necessary.
Check and fill windshield wiper fluid and antifreeze.
Inspect tires for issues with air pressure and treads, and replace them if they're worn.
Turn on the heater and defroster to make sure they're working properly.
Test the brakes to ensure the car can come to a complete stop.
If you do end up stranded out on the road, stay in the car as much as possible. The NHTSA also suggests the following:
Draw attention to your vehicle by tying a brightly colored cloth around your antenna and keeping the interior dome light on.
Run the engine only when extra warmth is needed, and don't run it for long periods of time with the windows up.
Remove any snow near the exhaust pipe to prevent carbon monoxide poisoning.
About Amica Insurance
Amica Mutual Insurance Co., the nation's oldest mutual insurer of automobiles, was founded in 1907. The company, based in Lincoln, RI, is a national writer of automobile, homeowners, marine and personal umbrella liability insurance. Life coverage is available through Amica Life Insurance Company, a wholly owned subsidiary. Amica employs more than 3,200 people in 40 offices across the country.
CONTACT: Vince Burks, Corporate Communications, 50 Amica Way, Lincoln, RI 02865-1155, 800-652-6422, ext. 24563
Twitter: Amica
Facebook: Amica Mutual Insurance Co.