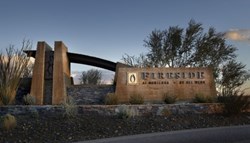 With the extensive knowledge of our staff we are looking forward to offering outstanding and genuine customer service to this community
Scottsdale, AZ (PRWEB) December 17, 2013
FirstService Residential, the leading community management company in Arizona, today announces being selected to provide HOA management services for the Fireside at Norterra Triplex Condominium Association. The community is located in Phoenix, Arizona and consists of 87 condominium homes. FirstService Residential will assume management responsibilities on January 1, 2013.
"FirstService Residential is happy to be selected to provide management services for the Fireside at Norterra Triplex Condominium Association. With the extensive knowledge of our staff we are looking forward to offering outstanding and genuine customer service to this community." said Jason Proudfit, FirstService Residential Arizona President.
The Fireside at Norterra condominiums are located near the I-17 and Jomax Rd in North Phoenix. The community offers residents numerous amenities including a 16,000 square foot community center, fitness center, movement studio, rock climbing wall and more. The community is just minutes from shopping, dining, and entertainment needs. In addition, the Fireside at Norterra community also offers hiking and biking trails connecting to the Sonoran Mountain Preserve.
FirstService Residential provides full-service community management solutions to a wide range of homeowner and condominium associations including some of Arizona's most beautiful and recognizable communities. Since 1968, its team has worked hard to serve the homeowners of Arizona, and today, the company is recognized as the leading HOA management company throughout the state. FirstService Residential has been selected as Arizona's top choice of HOA management companies by Ranking Arizona for seven consecutive years and by the Phoenix Business Journal for the past six years.
About FirstService Residential
FirstService Residential, previously known in Arizona as Rossmar & Graham, is a subsidiary of FirstService Corporation, a global leader in the rapidly growing real estate services sector, one of the largest markets in the world. As a leading property management company in North America, FirstService Residential oversees more than 6,500 residential and commercial associations including 1.5 million residential units and over 50 million square feet of commercial space across 21 U.S. states and three provinces in Canada. The company has more than 12,000 employees driving local market expertise and manages in excess of $6 billion in annual budgets. For more information, visit http://www.fsresidential.com.
###