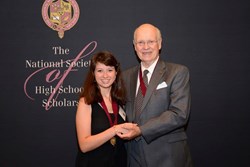 "Grace has worked very diligently to set herself apart from the average student. Her invitation and attendance at the Nobel Program is well deserved and something we are all proud of." - Dr. Hunter Chadwick, KRCS High School Principal
Alpharetta, GA (PRWEB) December 18, 2013
King's Ridge Christian School (KRCS) senior Grace Cagle has been selected to participate as a guest at the 2013 Nobel Prize Awards in Stockholm, Sweden as part of a student delegation with the National Society of High School Scholars. The society was founded by Claes Nobel, great nephew of Alfred Nobel.
The society seeks to promote leadership among high school & college students with high academic potential. The awards are held annually in Stockholm the first week in December. Grace will travel to Stockholm University to participate in "Nobel Week" by attending lectures of the Nobel laureates at Stockholm University, tour the Nobel museum and interview with members of the Nobel prize selection committee.
King's Ridge Christian School is a multi-denominational, college preparatory PreK-12th grade independent school located in Alpharetta, GA. Admission tours are available and enrollment continues throughout the school year in select grade levels. Visit http://www.kingsridgecs.org or call (770) 754-5738 for additional information.