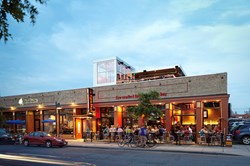 "Additional new restaurant projects coming from Arch11 will span the culinary globe."
Denver, Colorado (PRWEB) December 17, 2013
Award-winning architecture firm Arch11 is riding what appears to be the new restaurant tsunami in the Denver/ Boulder area with four recently completed projects and six new ones on the boards. While the Colorado architecture firm has gained recognition for projects ranging from exceptional residences to institutional planning, mixed-use development, and product design, it is currently in high demand for its stylish approach to crafting the new-American dining experience. The firm's restaurant design portfolio includes Denver and Boulder standards like "Jax," "Lolas," and the "Bitter Bar."
Most recently, Arch11 has set the stage for Boulder's award-winning "Oak at Fourteenth" where the design melds elements of Colorado's rustic backdrop with Boulder's hip and contemporary dining scene. The open kitchen design at "Oak" highlights the growing trend toward experiential dining where customers can see their food prepared. "More and more, you see how your food is put together, which impacts finish selections and kitchen efficiencies," says Arch11 principal and founder E.J. Meade.
Capitalizing on the enormous popularity of craft brewing, the firm's design for "Fate Brewing Company" in Boulder successfully repurposes an industrial space to fit the spirit of a boutique batch brewing outfit and restaurant. Meade notes that Fate is a large restaurant as trends go. "There is a lot of activity with young restaurateurs to move into smaller and tighter spaces, providing more intimate dining experiences and reducing initial start-up costs," says Meade. "At 7,000 square feet, Fate bucks that trend."
For "Ignite!" – in Denver's Ballpark Neighborhood – Arch11 reimagined a historic pawn shop to create a modern urban gastro-pub with a rooftop bar and open street seating. "The building is in a historic district, and we basically rebuilt the entire inside of it while maintaining its 19th century charm," says Arch11 partner, Ken Andrews, the project architect. That concept of breathing new life into existing structures is at the core of Arch11's sustainability mission.
"Humboldt" in Denver's Uptown neighborhood is Arch11's newest restaurant design, inhabiting the space formerly occupied by the city's beloved Strings restaurant. The menu features Northern California-inspired seafood cuisine with a nod to the burgeoning farm-to-table concept. Arch11's interiors match the restaurant's fresh approach with an open kitchen, warm dark woods, exposed steel and cozy, brightly upholstered seating areas.
Additional new restaurant projects coming from Arch11 will span the culinary globe, including a restaurant featuring low-country Southern fare near Coors Field and a Nuevo Mexican taco bar. In between these cultured concepts are plans for a juice bar to complement the micro-juice trend and another gastro pub, among others.
The firm's approach to restaurant design – allowing the dining space to celebrate the food and the chefs who are creating it rather than inventing an overpowering atmosphere – provides a refreshing direction for chefs and restaurant groups hoping to capitalize on Denver and Boulder's ever-maturing palate. Arch11 principals also speculate that Denver's growing economy and housing market is spurring confidence among restaurant developers.
Founded in 1993, Arch11 has gained recognition for projects ranging from exceptional residences to institutional planning, mixed-use development and product design. Recent awards include a 2013 Citation and Merit Award from AIA Denver and a 2013 Citation Award from AIA Colorado North, five 2012 Design Awards from AIA Colorado North and two from the Denver Chapter of AIA, the 2009 Firm of the Year Award from the Colorado AIA. Arch11's Ken Andrews also was named 2013 Mentor of the Year by the AIA Colorado North Chapter.
Company Information: With offices in Boulder and Denver, Colo., Arch11 has 30 combined years of green building technology leadership. The staff's unusual level of hands-on experience ranges from boat building to furniture making, contributing to its reputation for commitment to craft, detailing and design integrity. For additional information visit http://www.arch11.com.
Media Contacts: Darla Worden, WordenGroup Strategic Public Relations, darla(at)wordenpr(dot)com, 307.734.5335; E.J. Meade, Arch11, ejmeade(at)arch11(dot)com, 303.546.6868