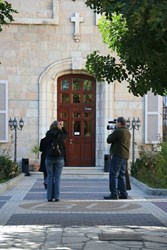 Bethlehem University... 40 years of providing excellent education
Indianapolis, IN (PRWEB) January 15, 2014
Bethlehem is one of the most theologically important cities in the world. The Bible refers to it both as the City of David and the birthplace of Jesus. Now it is also one of the most educationally important cities, at least in the Israel and Palestine. Tekton Ministries, a Catholic pilgrimage company, specializes in Holy Land trips and directly supports students attending Bethlehem University.
Since 1995, Bethlehem has been governed by the Palestinian National Authority.
Bethlehem has a Muslim majority, but is also home to one of the largest Palestinian Christian communities.
Bethlehem University which just celebrated 40 years of providing excellent education forms a prominent center for the town of Bethlehem. It is the first Catholic university in the Middle East and the first to serve Palestinians in their own homeland.
Bethlehem's Christian mayor Vera Baboun is a former student and teacher of which she is very proud. She says, "It is a university that addresses not just the mind but also the heart."
Thousands of students, both Christian and Muslims, have received an education along with skills that help the students deal with the difficulties that they encounter in a very complex land. They live together peacefully setting a foundation for a peaceful future.
Ms. Baboun has much hope for Bethlehem that she expressed in a recent visit with Pope Francis at the Vatican as a part of a delegation guided by Palestianian President Abbas.
She brought the message of the city of Palestine, of the city of Bethlehem to the Vatican stating her own hope in Pope Francis who is, "a man people to people and that will create a change because he creates a change of the heart."
President Abbas came to the Vatican to extend an invitation to Pope Francis to visit Bethlehem. Mayor Baboun says that a visit by the Pope to Bethlehem would be, "a continuous revival of the significance of the message of peace." She goes on to say that, "the young people who have lost all hope for viability and existence will have their hope revived by Pope Francis delivering Jesus' message of peace."
Dr. Micahel Sansur, Vice President of Bethlehem University states that the city and the university have the same message, "a message of peace, of reconciliation, of justice, and of peace education."
Bethlehem is possibly one the most important pilgrimage sites in the Christian world for it is where Jesus Christ chose to be born of the Virgin Mary. Pilgrims flock here especially at Christmas time.
Since the Palestinian Christians main source of income is tourism, a pilgrimage to this holy place not only feeds one spiritually but it also literally "feeds" the mouths of many of our fellow Christians in this area. An added benefit is that the presence of pilgrims give these "living stones" hope that their plight is not unknown, not forgotten.
Tekton Ministries is a Catholic pilgrimage organization that organizes groups to holy places. If you would like to journey to the Holy Land or know of a priest that would like to go, please call us at 800-905-3787 or email us at pilgrimage(at)tektonministries(dot)org.
Listen to that still small voice that may be calling you.