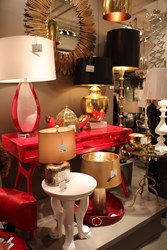 Arteriors Home is a great customer with a great reputation to partner with.
Dallas, TX (PRWEB) December 19, 2013
iConnect POS just announced that they signed up Commercial and Home interiors company, Arteriors Home, as a new client of their Point of Sale Application. The iConnect POS system and app will run the point of sale for several of Arterior's showroom locations throughout North America.
Arteriors is a leading provider of luxury residential and commercial lighting, wall décor, decorative accessories and furniture. Launched with a focus on traditional accessories in classic materials, the company collaborates with experienced artisans and manufacturers around the world working in leather, iron, brass, bronze, nickel, wood, glass, ceramic, porcelain and more. Arteriors offers a wide spectrum of styles in luxury materials and finishes scaled specifically for design lovers with up-to-date sensibilities.
iConnect POS specializes in mobile and web based point of sale systems for retail, salons, restaurants and many other types of clients all over the globe.
For more information about the iConnectPOS app in iTunes, click here.