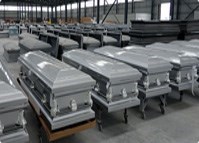 (PRWEB) December 17, 2013
MillionaireCasket.com is a famous casket company from China; it has increased very fast over the past few years. The company is famous for its high quality products. Recently, the company held a solid oak wood casket exhibition in the USA. Over 20 casket company officials attended the exhibition.
The CEO of the company says, "We were excited to hold the exhibition. At the exhibition, we showed our latest products. We have prepared for such an activity for a very long. We want to strengthen the relationships with our customers and partners. What's more, we will create more unique products for worldwide customers."
As one of the pioneers in the industry, the company often holds product exhibitions and seminars. The aim of such activities is to facilitate its communication with other similar companies. What's more, the modest company hopes to learn more from others.
In addition, the company is now providing big discounts on hundreds of caskets like solid oak wood caskets, solid poplar wood caskets, veneer poplar wood caskets, Victorian carnations and so on. Its mission is to create comfort for the departed saints.
About MillionaireCasket.com
MillionaireCasket.com is a leading casket company based in China. It focuses on the business of casket wholesale. It offers an exquisitely crafted line of all kinds of metal caskets, solid wood caskets, veneer caskets, cremation caskets, rental caskets, orthodox caskets, infant or over-sized caskets and European style coffins.
For more detailed information, readers can visit: http://www.millionairecasket.com/solid-oak-wood-6/.