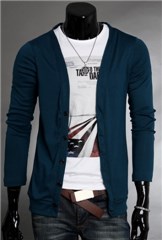 (PRWEB) December 18, 2013
Nowadays, a lot of the international customers buy cheap men's clothing online at 4leafcity.com. The company's website is a one-stop platform of almost all kinds of clothes. Recently, the company has announced its latest selection of men's clothes (including long sleeve t shirts, suits, leather jackets, casual jackets, skinny jeans, tweed coats and many more).
According to a senior spokesman for the company, it has begun its promotion of all these high quality clothes. They are now offered at deeply discounted rates, up to 41% off. All new and old consumers can enjoy the special offer before the end of December.
The spokesman states, "We are to introduce our new wonderful clothes for men. The new collection covers many hot styles; all customers can find what they want. We treat customer needs as the most important part of our business, so all our new items are made through customer feedback. To meet the diverse requirements of different customers, we may offer custom items in the near future."
What's more, the company has a team of clothing professionals who have years of experience and always keep an eye on the latest fashion trends. All products from the company are carefully manufactured from start to finish.
About 4leafcity.com
4leafcity.com was founded in 2009 and serves more than 5000 customers from every part of the world. It is one of the leading suppliers of men's and women's clothes, helping the people worldwide develop self-esteem, confidence and love of learning. For a full list of services and to learn more about 4leafcity.com, please visit http://www.4leafcity.com/product-men-s-clothing-009.aspx.