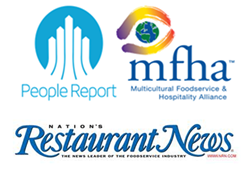 Dallas, Texas (PRWEB) December 17, 2013
People Report, a TDn2K company, has partnered with the Multicultural Foodservice and Hospitality Alliance (MFHA) to publish "The State of the Foodservice Industry: Diversity Report 2014". This comprehensive study will reveal and reflect on diversity practices in the restaurant industry.
The objective of this research is to provide information that will help executives and leaders understand the areas where the industry is performing well, and to identify challenges that need to be addressed in the quest to attract diverse talent, as well as marketing and selling to a multicultural audience.
The study will determine the diversity profile for the restaurant industry by position level, from hourly employees through corporate executives. It will explore the many different components of diversity, the prevalence and use of diversity strategies, how these strategies are communicated to employees as well as the use of diversity training programs within the industry.
To take the survey, click here.
To view survey questions first, click here.
All data entries are due by end of day December 23rd, 2013.
"This report will provide critical information about where we, as an industry, stand on one of the most important multicultural metrics – Is foodservice a viable career option for multicultural talent? In a global marketplace we need to make the strong case with people of color that our industry is a great place to pursue a career. In order to attract and retain top multicultural talent, we need to use quantifiable facts that illustrate our commitment and progress on diversity and inclusion issues. Equally important is the need to be open and honest about opportunities to improve," says Gerald A. Fernandez, President at the MFHA.
"We believe there is an opportunity for the industry to improve through knowledge. We typically have great diversity at the hourly level, but some of our best and most engaged employees are not advancing up the corporate ladder. The opportunity for us to learn what we are doing collectively, how we are addressing the diversity challenges and answer the 'are we doing everything we possibly can to promote diversity at our organization' question is a game changer for the industry." adds Victor Fernandez, Executive Director of Insights for TDn2K.
Research has shown that when work teams are diverse, it leads to greater innovation and better business results. Given the significantly growing multicultural population in America, achieving diversity in hiring is one of the keys to maximizing business results now and in the future.
All data submitted will remain confidential and will only be released in aggregate. No company-specific information will be shared by People Report or MFHA in any capacity. To participate in this study, please visit: http://bit.ly/I4STlG and complete the survey by Monday December 23rd. Results will be available and sent to all survey participants on or before February 28, 2014. You can contact Victor Fernandez for any question regarding the survey: victor(dot)fernandez(at)tdn2k(dot)com.
TDn2K
TDn2K (Transforming Data into Knowledge) is the parent company of People Report, Black Box Intelligence and White Box Social Intelligence. People Report provides service-sector human capital and workforce analytics for its members on a monthly basis. Black Box Intelligence provides weekly financial and market level data for the restaurant industry. White Box Social Intelligence, currently in beta, will deliver unparalleled consumer insights. Together they report on over 34,000 restaurant units, one million employees and 35 billion dollars in sales. They are also the producers of two leading restaurant industry conferences: Summer Brand Camp and the Global Best Practices Conference, each held annually in Dallas, Texas.
MFHA
Since 1996 The Multicultural Foodservice & Hospitality Alliance (MFHA) has been the industry's voice and solutions provider for multicultural business challenges. We are an advocate and resource that helps build and protect brands, and we provide a full suite of effective, relevant Cultural Intelligence products and services that deliver sustainable business results. Our goal is to build culturally intelligent brands and leaders.