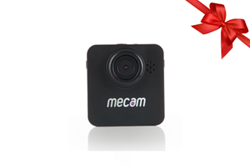 ...the new MeCam HD Camera will be available for $160, a full $100 off the original retail price.
Miami, FL (PRWEB) December 18, 2013
MeCam, the developer of an innovative Wearable Video Camera, has announced that it will be offering a new line of high definition cameras at a significantly reduced price during its holiday sale.
According to a recent statement on its official blog at MeCam.Me, the new MeCam HD Camera will be available for $160, a full $100 off the original retail price for what they are calling a Holiday Special. The camera is sold as part of a comprehensive package that includes a clip bracket with detachable stand, a safety pin bracket, a neck strap, an 8GB Micro USB card and Micro USB Cord, the MeCam App for iOS and Android smart phones, access to proprietary video editing software, and a one-year warranty against defects.
The new MeCam HD will provide top-shelf quality videos that will match or surpass current high-end cameras currently available on the market. It shoots in full 1080p HD video with a high quality glass lens and internal gyroscope for image stabilization. Every MeCam HD emits its own Wi-Fi signal, allowing clients to connect to a smartphone or tablet in order to control the MeCam and instantly share footage through the proprietary app.
Like the rest of the company's signature hands-free wearable video cameras, the new HD camera is designed to maximize versatility, personalization, and ease of use. It can be pinned on a shirt, worn as a necklace, or pinned on to other objects in order capture video from that point of view.
The MeCam was developed to allow users to record their lives or activities in a manner that was more natural and unique. The product, which can be ordered in bulk or customized, has become popular among a wide range of consumers, and will likely become more popular in light of the reduced price during the holiday season.