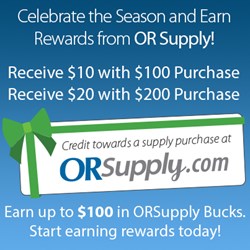 "We've always been committed to helping them get the best deals we can, and we're excited that this program will benefit them even more than before." Brent Kramer, ORSupply.com
Louisville, KY (PRWEB) December 19, 2013
ORSupply.com — an online division of DRE, Inc. — is pleased to announce its brand new "ORSupply Bucks" program, a rewards program that puts money back into the customers' pockets. For every $100 purchased at OR Supply, customers will earn $10 of OR Supply Bucks, credit applicable towards any item in our inventory.*
Brent Kramer, e-commerce manager for ORSupply.com, said ORSupply Bucks are a way for him and other members of the sales team to show their appreciation for loyal customers.
"We've grown a lot as a company, over the past year," Kramer said. "And we owe a big part of that success to our clients. We've always been committed to helping them get the best deals we can, and we're excited that this program will benefit them even more than before."
With nearly 30 years of industry experience, ORSupply.com provides access to one of the nation's widest selection of medical supplies, with more than 200 leading healthcare suppliers at our disposal and a catalog that now boasts 30,000 products. ORSupply.com is essentially a one-stop-shop for all of the non-capital equipment needs of any surgical center or operating room:

surgical supplies and instruments
anesthesia supplies
laryngoscopes
cautery and electrosurgical units
home health devices
diagnostic equipment
sterilization unites
emergency medicine equipment
patient monitoring systems
patient care devices
orthopedics and physical therapy equipment
respiratory aids
Click here to read more about ORSupply.com's new ORSupply Bucks savings program.
About ORSupply.com
ORSupply.com is a division of DRE, Inc. that specializes in selling and distributing medical accessories and supplies to hospitals, surgery centers, clinics, research labs and medical facilities across the United States. ORSupply.com's goal is to provide medical professionals with a one-stop destination for researching and purchasing medical accessories and supplies.
*ORSupply Bucks are available for any purchases of more than $100 but not exceeding $1000.