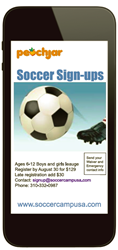 Peachjar has provided FWCS with the opportunity to continue supporting community organizations while reducing the amount of time and resources we commit to distributing flyers. - Krista Stockman, FWCS Public Information Officer
Fort Wayne, Indiana (PRWEB) December 20, 2013
Peachjar, a San Diego based technology company, is on a mission to help schools get out of the flyer delivery business. Fort Wayne Community Schools (FWCS) is the latest school district to embrace Peachjar's innovative system for distributing school flyers electronically. According to district Public Information Officer Krista Stockman, "Peachjar has provided FWCS with the opportunity to continue supporting community organizations while reducing the amount of time and resources we commit to distributing flyers."
Peachjar's eflyer management system allows schools and parent organizations to distribute their school eflyers for free. By using this new system, Fort Wayne Community Schools expects to save over 100 tons of paper per year, nearly 2,000 trees. Additionally, Fort Wayne schools have eliminated the administrative burden and material cost associated with paper flyer distribution.
Importantly, Peachjar strives to connect more students with enrichment programs since outside organizations also use the system to distribute their school-approved eflyers. All eflyers are emailed directly to parents who see an image of the eflyer right on their smartphone or computer screen. One click takes parents straight to the organization's website, making it easy for parents to sign-up.
From soccer leagues, art classes, music lessons, and tutoring programs, students thrive by participating in extracurricular enrichment activities. Now Fort Wayne parents can stay informed, help their schools, and help the environment, all at the same time.
About Peachjar:
Peachjar was founded in 2011 in response to the amount of paper flyers that were going home with students - and the amount that weren't actually making it home. Since then, the company has helped districts across the nation improve their school-to-home communication by delivering eflyers directly to parents.