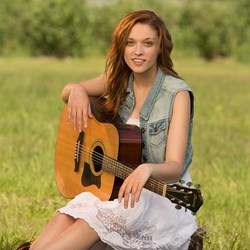 New York, NY (PRWEB) December 23, 2013
Seventeen year old Holly May is a name you may not be familiar with, but soon enough, she will be getting the recognition she highly deserves in the country music world. This up-and-coming country pop darling is ready to take off in 2014 with a bang. Having already built an extensive list of amazing people she has worked with, including some of Nashville's best recording artists like Miles McPherson, Justin Shipley, and Derek Wells, Nashville will soon have a new name and face to recognize. Holly's sound is the perfect mix of empowering female country voices like Miranda Lambert and a sweet twist of some infectious Taylor Swift-esque pop country.
With a huge 2014 year ahead, Holly will be releasing her official video for "Go Big or Go Home" along with a new record deal with SoNo Recording Group and a worldwide distribution deal with Spotify. In addition to her Spotify campaign, Holly May will be featured in an upcoming Comcast On-Demand special "Artist Garage" which will be available for free to 10 million viewers, and perfectly in line with Holly's big 2014 tour planned for the Spring/Summer.
 
Holly is working with some of the best and most recognized producers in the music industry, such as, Mikal Blue (One Republic, Jason Maraz, Colbie Caillat), Ross Vannelli (Kayne West, Heart) and Enoch Jensen. Holly's sound is beautifully displayed in her melodic vocals on her Richard Marks cover "Right Her Waiting" and her lead single "Go Big or Go Home".