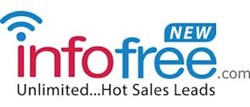 Omaha, NE (PRWEB) December 19, 2013
The nationwide publication advertising company, Sanctuary Publications, has announce its recent subscription with Infofree.com. Sanctuary Publications provides religious and community organizations across the US with print materials and online communications services. Now with infofree.com, Sanctuary Publications can now access unlimited sales leads across the nation with the most current databases.
"Sanctuary Publications were looking for updated, portable information. After a trial run with Infofree.com during which several sales associates closed sales, Sanctuary Publications knew Infofree.com was the optimal choice," said Blake Van Glider, Infofree's Vice President of Sales.
The finalization of the deal ensures that 100 new users will have unlimited access to

Over 200 Databases
Unlimited business profiles
Unlimited search, select and view of sales leads
Unlimited print and download of sales leads
Unlimited print and view of email addresses
The company will join over 100,000 users who trust Infofree.com for the most up-to-date data available.
To try Infofree, visit http://www.infofree.com or call 877-448-0101 for more information.
About Us: Infofree.com™ is revolutionizing the sales lead and mailing list industry by providing unlimited search, select and view of over 15 million business records, 225 million consumers, and hundreds of other specialty databases for the low, flat price of only $49.95 per month or $449 per year. Reach new homeowners, new movers, newlyweds, new businesses, and more!