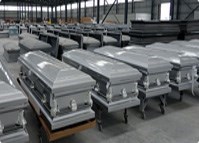 (PRWEB) December 19, 2013
Recently, MillionaireCasket.com, the famous Chinese casket manufacturer, has announced its new collection of solid urns.
Worldwide customers can now access the most comfortable and affordable urns for their deceased relatives and friends. The new range covers some of the company's best items. These new urns are made according to the comprehensive reviews conducted by the company's top expert team, covering all aspects of service.
Along with solid urns, the company has manufactured many kinds of caskets in recent years. Its casket products are also sold in many major distributors' shops from home and abroad. According to the CEO of the company, all the caskets are high quality products. To meet the different requirements, they are available in various structures and decoration. The hottest items from the company include veneer caskets, metal caskets, wood caskets, cremation caskets, orthodox caskets and so on.
As we all know, heavy things such as caskets require high shipping fees. The good news is that the kind company also offers discounted shipping costs. That helps worldwide clients save a large amount of money. All its products are guaranteed to be solid and comfortable, offering its customers a better peace of mind.
About MillionaireCasket.com
MillionaireCasket.com is a leading casket company based in China. It focuses on the business of casket wholesale. It offers an exquisitely crafted line of all kinds of metal caskets, solid wood caskets, veneer caskets, cremation caskets, rental caskets, orthodox caskets, infant or over-sized caskets and European style coffins.
For more detailed information, readers can visit: http://www.millionairecasket.com/wood-urn-3/.