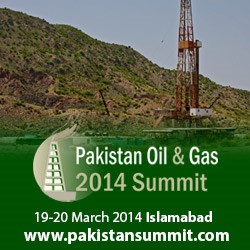 It's an IRN Summit!
London, UK (PRWEB UK) 20 December 2013
IRN, the London based global summits organiser, is delighted to announce the launch of the Pakistan Oil & Gas 2014 Summit, the new addition to the company's oil and gas portfolio. The summit will be a high profile meeting that will take place 19th-20th March in the capital of Pakistan, Islamabad and will discuss the exploration and production, investment and infrastructure within the country's oil and gas fields.
The senior-level speaking faculty will include governmental officials from Pakistan, officials from national and international oil companies, widely known geologists and energy analysts as well as key service providers who will demonstrate the legal framework, geology and proven reserves pipeline routes, technical issues, key threats onshore and offshore, emerging technologies, and forthcoming opportunities during the two day summit.
Total conventional and unconventional gas reserves in Pakistan are estimated at about 160 Tcf and it has the second largest gas infrastructure in the world and the government expects the development of new natural gas fields in the upcoming period. The Pakistan Oil & Gas 2014 Summit happens at a defining moment as the country faces an energy crisis notably due to an increasing overall energy consumption although most of the sedimentary basins remain under-explored.
Ministerial keynote speeches, case studies, presentations, panel discussions and workshops will provide investors and operators an overview and all needed information to get involved in the country's oil and gas potential, considering the conventional oil and gas resources as well as the unconventional ones.
The summit will take place in a 5* venue in Islamabad, bringing together 200 key figures of the region. As every IRN Summit, it will provide delegates with networking sessions, such as a private gala dinner and a networking reception that will enable them to sit around the same table with each other in a relaxed atmosphere and establish new business alliances.
More information on the Pakistan Oil & Gas 2014 Summit can be found online on the website of the summit, http://www.pakistansummit.com.