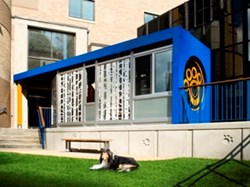 "We want to help educate others. This really improves the lives of the patients and their families and helps relieve the suffering and separation of long-term hospitalization," said Anderson. "It puts a smile on the children's faces."
Canton, Michigan (PRWEB) December 20, 2013
Pet therapy in healthcare isn't news, but the Family Pet Center at Cincinnati Children's Hospital is. Opened in September 2013, it's the first in the country to bring hospitalized kids and their family pets together in a special structure created to promote the healing benefits. Designed by GBBN Architects in Cincinnati, the Center was engineered and fabricated by Duo-Gard Industries Inc. in Canton, Michigan.
The Center expands the hospital's existing pet therapy program with a 250-square-foot, three-sided structure that accommodates pediatric patients whether they're on foot, in a wheelchair or on a stretcher. Inside the shelter is an 8' by 10' enclosure where kids, pets and families meet. Currently, cats and dogs are invited to visit patients whose stay is five days or longer.
"This is extremely new to the hospital world," said architect Aaron Anderson, LEED AP and Senior Associate at GBBN. "We wanted a simple shelter with a prefab system for quality control and cost. My research led us to Duo-Gard."
It's also new to Duo-Gard, said Michael Arvidson, executive vice president: "Although we produce many special-purpose structures, this is our first to directly affect the lives of suffering children. Our team is very proud to be a collaborator is this effort that brings joy, hope and healing to kids facing long hospital stays."
A major design challenge was integrating the external Center into the hospital campus, said Anderson, without creating any life-safety issues that would impede code approval.
The shelter was designed to complement the hospital's existing architecture. Located in a previously underutilized concrete courtyard, it features glass walls and a bright blue metal roof of aluminum composite. Anderson called it a compact site of leftover space that fortunately required no major foundation work and one where Duo-Gard's shelter could be surface-bolted.
A huge orange paw decal decorates one wall, while the others sport patterns that evoke tree branches; the goal was to help reconnect kids to the outside world. Duo-Gard designed a cost-effective LED lighting system in a random pattern that creates a star-filled sky.
The project, similar to one in Alberta, Canada, was initiated after a discussion between Ellen Flannery, head of CancerFree KIDS, and the hospital's oncology department. Flannery applied for and won a grant from Impact 100, an area women's organization.
Anderson and Flannery said the Center is already accomplishing more than expected. Flannery received a letter following one family's visit which had included the patient's siblings along with the pet: "This is the first time we felt like a family since our child began treatment." She said the hospital has inquiries from other hospitals and is designing a research program about the benefits of such a Center.
"We want to help educate others. This really improves the lives of the patients and their families and helps relieve the suffering and separation of long-term hospitalization," said Anderson. "It puts a smile on the children's faces."
Located in Canton MI, Duo-Gard Industries Inc. has been an international innovator in outdoor structures, high-perfornance glazing systems and daylight modeling services for sustainable building since 1984.
Editorial Contacts: Julie Mead 810-623-0561 / Linda Byam 248-761-7990 http://www.duo-gard.com