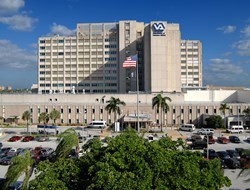 "It's an honor to serve Veterans at the Miami VA, and we are thrilled to see the community rally and help Veterans celebrate the holidays," said Paul Russo, Director of the Miami VA Healthcare System
Fort Lauderdale (PRWEB) December 19, 2013
Thanks to the generosity of local businesses and community groups, nearly 100 children of Veteran families will have a happy holiday season this year. EZDocnow.com and MissonUnited will all come together Dec. 21 at the William "Bill" Kling VA Clinic to bring a little joy (and some toys) to families in need.
The event will begin at 9:30 a.m. at 9800 West Commercial Blvd in Sunrise. The community is encouraged to drop off new, unwrapped toys that will be distributed to the Veteran families in Broward County. Santa and his elves will be on hand to give gifts to preselected Veteran families.
"We always try to improve our community, and when we learned that the Miami VA had over 80 families in need, we decided that we had to do something big for them; not only for the holidays, but because they've given so much to protect our rights and freedom," said David Marsidi, CEO of EZDocNow.com - a South Florida based company that allows patients to request and book their next healthcare appointment online.
There are approximately 156,000 Veterans living in South Florida and nearly 60,000 receive care through the Miami VA Healthcare System. Events like this are just another way the community honors military Veterans, said Paul Russo, Director of the Miami VA Healthcare System.
"Our Veterans are the community's greatest treasure," said Russo. "It's an honor to serve them every day at the Miami VA, and we are thrilled to see the community rally and help Veterans celebrate the holidays."
Who: Miami VA Healthcare System
What: Gift Distribution and Holiday Toy Drive
When: Dec. 21, 9:30 – 11 a.m.
Where: William "Bill" Kling VA Clinic
9800 West Commercial Blvd, Sunrise FL 33351
###