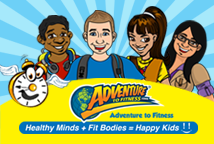 "If you've got kids cooped-up indoors on vacation from school, we encourage you to try out our free trial. It's got a full episode that will get kids up, moving, and learning for 30 minutes, plus extra activities to do afterwards."
New York City, NY (PRWEB) December 24, 2013
The fitness program now used by over 10 million kids and some of the nation's top children's hospitals, including the #1 ranked Children's Hospital of Philadelphia, is offering a free trial of their program until Dec. 29th.
The interactive adventures immerse kids in an animated world in which they learn and get fit by getting moving. On-screen guide "Mr. Marc" and his sidekick "Mr. Clock" instruct kids to follow their movements to affect outcomes in the story, while sneaking in valuable instruction in health, good habits, nutrition, and core academic subject matter. For kids, it's all just a fun game.
Currently the Adventure to Fitness workout routines for kids are used in 20,000 schools across all 50 states, by over 100,000 teachers. Due to overwhelming demand from both kids and parents, a home version was released, available by streaming subscription and on DVD. Membership to the home program has grown significantly throughout 2013.
The company says it's all part of their plan to make quality and reliable wellness instruction available to every child. "The holidays are about giving, and we want to help parents realize the true value healthy gifts provide to their children's overall happiness," said Michael Rhattigan, CEO of Adventure to Fitness. "If you've got kids cooped-up indoors on vacation from school, we encourage you to try out our free trial. It's got a full episode that will get kids up, moving, and learning for 30 minutes, plus extra activities to do afterwards."
The free trial is available through Sunday at http://adventuretofitness.com/happyholidays.
###
About Adventure to Fitness
Adventure to Fitness (AtoF) is the #1 educational fitness program for kids, reaching 10 million children around the world. Through engaging videos, interactive games, tips from physicians, informative blog posts and recipes, AtoF's at-home fitness program offers a 360-degree solution to health and wellness education. Used and trusted by over 100,000 teachers, AtoF was developed with input from leading educational, medical and parenting experts. For more information, visit http://www.adventuretofitness.com.