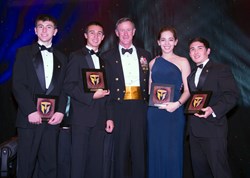 Philadelphia, PA (PRWEB) December 19, 2013
The Travis Manion Foundation honored the men and women who serve at the 2013 "If Not Me, Then Who…" Gala held on Dec. 12 at the Union League of Philadelphia. Before his second and final deployment to Iraq in 2006, Marine 1st Lt. Travis Manion responded "If Not Me, Then Who?" when asked why he had to return to the war. In its second year, the annual gala is held to honor those who share Travis' dedication to selfless service and leadership.
The 2013 "If Not Me, Then Who…" Gala brought together military, corporate and community leaders to honor fallen heroes, veterans, active duty troops and military families. There were more than 300 guests at the event. Adm. William H. McRaven, U.S. Navy, served as the Guest of Honor at the distinguished event. Jenna Lee, anchor on Fox News Channel's Happening Now, was the Mistress of Ceremonies.
Four Character Does Matter college scholarships were awarded to students who are serving others and leading in their communities. Recipients included Julia Davis of Sandy Hook, Conn.; Joshua Glantzman of Allenwood, N.J.; Austin Guilbeau of Miami, Fla.; and Matthew Nulk of Cypress, Calif.
The "If Not Me, Then Who…" Leadership Award was presented to U.S. Army veteran Kevin Mincio, President and Co-Founder of the Team Jesse Foundation, in recognition of his military service and his continued support of the military community through his nonprofit organization. Mincio explains, "I am inspired and humbled to receive this award because its mantra - "If Not Me, Then Who..."- represents an entire generation of volunteers who are defending our freedoms worldwide. The Travis Manion Foundation's mission is one of honor and I will carry through with its spirit and purpose into the future."
General Motors received the Corporate Leadership Award in recognition of its commitment to the nation's military and veterans. General Motor's Chief Diversity Officer Capt. Kenneth J. Barrett, U.S. Navy (Ret.), accepted the award on behalf of the organization.
Travis Manion Foundation President Ryan Manion Borek says, "It is amazing to see that the five simple words uttered by my brother Travis are creating a national movement to put others before self. The annual "If Not Me, Then Who…" Gala is a celebration of those who are joining the movement." For more information, visit http://www.travismanion.org.
About Travis Manion Foundation
Headquartered in Doylestown, Pa., the Travis Manion Foundation is a qualified 501(c)(3) non-profit organization that was created in 2007 by the Manion family after 1st Lt. Travis Manion was killed in Fallujah, Iraq as he drew enemy fire away from his wounded comrades. The Travis Manion Foundation is a military support organization focused on transforming the lives of veterans and families of the fallen, and their communities, with the mission of building a nation of heroes in which character, leadership and service are in action every day.