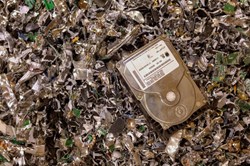 Shred it and forget it!
Plainville, MA (PRWEB) December 20, 2013
Northeast Data Destruction would like to provide some information to be aware of this holiday season - since the majority of the population will be receiving new electronics this holiday!
Today everyone enjoys the use of electronics, and all the conveniences and luxury they provide. However it is sometimes overlooked that valuable and confidential information is stored on most every standard computer, laptop, cell phone, copier and fax machine.
Many end of life electronic data storage devices are disposed of improperly. Often these devices contain a substantial amount of confidential information*. This information can be damaging to a person or business if not properly disposed of.
Also – please take the environment into consideration, as virtually all improper disposal of E-Waste ends up in landfills, potentially leaking hazardous material.
When destroying any e-waste make sure to use a NAID "AAA" Certified company. Using a NAID certified company insures these devices are properly destroyed, and renders the information contained within them completely unrecoverable.
*Just how much do these devices hold?
(Information below provided by: http://www.ITLNOW.com)
Floppy Disk - 1.44 MB - 720 pages - 1 banker box
CD-ROM - 700 MC - 350,000 pages - 140 banker boxes
Thumb Drive - 2 GB - 1,000,000 pages - 400 banker boxes
DVD - 4.7 GB - 2,350,000 pages - 940 banker boxes
DLT Tape - 40 GB - 20,000,000 pages - 8,000 banker boxes
Hard drive/external hard drive- 200 GB - 100,000,000 pages - 40,000 banker boxes
Network Storage - 1 TB - 500,000,000 pages - 200,000 banker boxes
A single 2GB USB Flash Drive can store 1,000,000 typed pages, or 400 banker boxes of information! How much information is that? It is enough to fill a 24 ft. box truck from floor to ceiling!
For more information call 1-800-783-6766 for details of ongoing shredding and recycling programs. Pickup service is available for large quantities and commercial accounts.
Also visit http://www.nedest.com for additional information on recycling & shredding services.
About the company:
Operating since 1940, Miller Recycling is a third generation company with the experience required to assist with all electronics, paper, plastics, and metals recycling requirements.
our NAID "AAA" Certified confidential shredding division, will securely process all your sensitive documents, files, media, hard drives, tapes, CD's, off spec products and storage components.