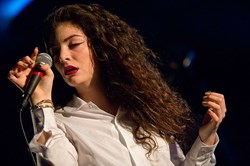 New York, NY (PRWEB) December 20, 2013
Ticket Down announces that they have slashed ticket prices for Lorde's 2014 concert tour in support of her first album "Pure Heroine." The world of music saw several artists break out in a big way in 2013. Among those stars was Lorde, who is the owner of the massive hit "Royals." Many fans and pundits would call Lorde the breakout superstar of the year and it would be difficult to find enough evidence to oppose that claim. The native of New Zealand is still in her teens and will be headlining her very own North American tour in 2014, invading 15 venues around the continent.
Below is Lorde's 2014 concert schedule:
03/03- Austin Music Hall – Austin, TX
03/04- Southside Ballroom – Dallas, TX
03/05- Bayou – Houston, TX
03/07- Echostage- Washington, DC
03/08- Tower Theatre – Philadelphia, PA
03/11- Roseland Ballroom – New York, NY
03/12- Roseland Ballroom – New York, NY
03/14- Orpheum – Boston, MA
03/15- Sound Academy – Toronto, ON
03/16- Fillmore – Detroit, MI
03/18- Aragon – Chicago, IL
03/20- Peabody Opera House – St. Louis, MO
03/21- Arvest Bank Theatre – Kansas City, MO
03/22- Fillmore Auditorium – Denver, CO
03/24- WAMU Theater – Seattle, WA
03/26- Fox – Oakland, CA
Lorde's debut album, "Pure Heroine," was released in the United States in September and has been a massive hit. The album has been certified gold by the Recording Industry Association of America with more than 500,000 sales in the U.S. alone. It has reached as high as the third spot on the Billboard album charts, but has reached the top of the charts in many countries including Austria and her home nation of New Zealand.
Her debut song off "Pure Heroine" was her blockbuster hit, "Royals," which has been certified platinum by the RIAA in the United States four times. The song has reached the top of the singles charts around the world and has been spoofed numerous times on the internet, only adding to her popularity. She has since released two more singles in the United States, including "Tennis Court" and "Team." "Tennis Court" reached the top of the charts in New Zealand, but has struggled to reach the same popularity on North America. "Team" has peaked at the No. 3 spot in New Zealand and has become a top 25 song in the States.
The 16-date tour from the 17-year-old superstar will feature mostly smaller venues including two dates at the Roseland Ballroom in New York City; Peabody Opera House in St. Louis, Missouri; and the Fillmore in Detroit, Michigan. By the time her tour begins, Lorde may be a Grammy Awards winner, as she received four nominations in December for the 2014 awards including Single of the Year and Record of the Year. She is also nominated for Best Solo Pop Performance and Best Pop Vocal Album.
Tickets for Lorde's tour will go on sale to the general public on Friday, December 20, 2013. Tickets for these smaller intimate shows will likely sell out quickly and would make for a great gift for her fans this holiday season. The music business hasn't seen a teenage burst onto the scene in this manner in several years and now is the time to see the superstar perform in a more intimate setting before moving onto larger arenas.
No announcement has been made as to who will join Lorde on this tour, but fans can expect a great show from the star. Ticket Down has extended their exclusive customer appreciation promo code DISCOUNT for added savings on any Lorde concert tickets.