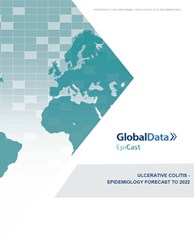 Rockville, MD (PRWEB) December 26, 2013
EpiCast Report: Ulcerative Colitis - Epidemiology Forecast to 2022
Ulcerative colitis is a chronic inflammatory bowel disease (IBD) that causes ulcers in the innermost lining of the colon and rectum. The colon's ability to absorb water is decreased, which leads to progressive loosening of the stool, bloody stool, and sometimes cramping or abdominal pain with urgency for bowel movement (CDC, 2013; NDDIC, 2013). The exact cause or triggers of the disease are yet to be identified. Globally, the incidence of ulcerative colitis varied from 0.34 cases per 100,000 population in China to as high as 15.1 cases per 100,000 population in the UK in the 1990s (Lok et al., 2008; Shivananda et al., 1996). The diagnosed prevalence of the condition ranged between 6.3 cases per 100,000 population in China in 2006 and 243 cases per 100,000 population in the UK during 2000–2002 (Lok et al., 2008; Rubin et al., 2000).
GlobalData epidemiologists forecast that there were 134,109 incident cases of ulcerative colitis in the 10MM in 2012, and the number of incident cases will grow 12.2% over the next decade to 150,530 incident cases. In 2012, there were 1,860,616 prevalent cases of ulcerative colitis in the 10MM. Each of the 10MM, except Germany, will see an increase in prevalent cases over the 10-year forecast period.
To order this report:
EpiCast Report: Ulcerative Colitis - Epidemiology Forecast to 2022
Contact: Shauna
800.298.5699
Customerservice(at)marketresearch(dot)com
GlobalData
GlobalData is the premier source of actionable insight into the energy and healthcare industries. With the combined expertise of more than 1,000 researchers, market analysts and consultants, we provide high-quality, accurate and transparent industry insight that helps our clients to achieve growth and increase business value
About MarketResearch.com
MarketResearch.com is the leading provider of global market intelligence products and services. With research reports from more than 720 top consulting and advisory firms, MarketResearch.com offers instant online access to the world's most extensive database of expert insights on global industries, companies, products, and trends. Moreover, MarketResearch.com's Research Specialists have in-depth knowledge of the publishers and the various types of reports in their respective industries and are ready to provide research assistance.
Follow us on Facebook http://www.facebook.com/marketresearchdotcom
Follow us on Twitter http://www.twitter.com/marketresearch_
EpiCast Report: Ulcerative Colitis - Epidemiology Forecast to 2022 - Table of Contents:
1 Table of Contents
2 Introduction
3 Epidemiology