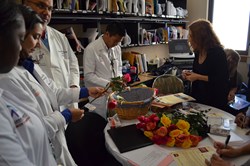 Loma Linda, Calif. (PRWEB) December 20, 2013
Staff at Loma Linda University Children's Hospital Pediatric Intensive Care Unit held a Donate Life Rose Ceremony on Friday, Dec. 20, to honor the memory of 16 children who helped others in need by becoming organ and tissue donors in 2013.
At the event, doctors, nurses, and hospital staff wrote inspirational messages into rose vials that will carry a fresh rose and will adorn the "rose dedication garden" of the Donate Life float, which will be featured at the 125th Rose Parade in Pasadena on New Year's Day.
"This rose dedication event is not only to honor those young children who gave of themselves to help others, but also to recognize the staff's commitment and hard work to make these precious gifts happen," said Dr. Shamel Abd-Allah, medical director of the LLUCH Pediatric Intensive Care Unit.
LLUCH joins more than 140 organizations and hundreds of people nationwide who will contribute dedicated roses to the Donate Life float, whose theme is "Light Up the World."
The Donate Life Rose Parade entry for the 2014 Rose Parade features a festival of lanterns illuminating 30 riders, who are all organ and tissue transplant recipients, and 12 living organ donors walking alongside to demonstrate their ongoing vitality. Loma Linda University Health is sponsoring Chino police officer John Cervantes, a kidney transplant recipient, as a rider on the float; and his brother and donor, Michael, as a walker alongside.
The float will also be adorned with 72 memorial floragraph portraits of deceased donors, to represent how their legacies of life shine brightly.
Photo Caption: Doctors, nurses, and medical staff at Loma Linda University Children's Hospital write messages during a Rose Ceremony on Friday to honor children who were organ and tissue donors in 2013.
# # #
About Loma Linda University Children's Hospital - LLUCH
Loma Linda University Children's Hospital is the only dedicated pediatric hospital in the vast geographic region of San Bernardino, Riverside, Inyo and Mono counties. With 348 beds dedicated just for kids, one of the largest Neonatal Intensive Care Units (NICU) in the country, and more than 100,000 children who come each year, LLUCH is a major pediatric teaching facility, known worldwide as the pioneer of neonatal heart transplantation. LLUCH is part of Loma Linda University Health (LLUH), the umbrella organization encompassing Loma Linda University's eight professional schools, Loma Linda University Medical Center's six hospitals, and more than 900 faculty physicians located across the Inland Empire in Southern California. A Seventh-day Adventist organization, LLUH is a faith-based health system with a mission "to continue the teaching and healing ministry of Jesus Christ."
About OneLegacy
OneLegacy is the federally designated, non-profit organization dedicated to saving lives through organ and tissue donation in the seven-county greater Los Angeles area. Since 2004, OneLegacy has coordinated the annual Donate Life Rose Parade Float campaign in collaboration with donation and transplant organizations nationwide. For more information about the Donate Life Rose Parade Float, visit the official float website at http://www.donatelifefloat.org.
CONTACT: Herbert Atienza, 909-558-8419, hatienza(at)llu(dot)edu