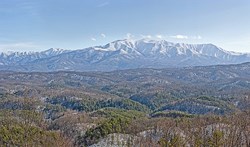 The Great Smoky Mountains are an incredible place to enjoy a getaway all year long.
Gatlinburg, TN (PRWEB) December 20, 2013
Looking to beat the winter blues? As the excitement of the holidays wears off, some people find themselves missing the holiday spirit. On December 19, the Highlands Condominiums announced the best ways to create a perfect winter vacation and extend the holiday excitement.
"We want families to know that they can have the perfect vacation any time of year," said a spokesperson for Highlands Condominiums. "The Great Smoky Mountains are an incredible place to enjoy a getaway all year long, especially winter."
They note that the Smoky Mountains are a day's drive from 60% of the nation's population and have entertainment including attractions, shows and theme parks. The Highlands Condos are near Ober Gatlinburg, the only ski resort in Tennessee, and bordered by the Great Smoky Mountain National Park. Near hiking trails and ski lifts, the Highlands invites guests to explore the area and enjoy all it has to offer. Their Gatlinburg condos are also near downtown's shops and restaurants, and they encourage guests to browse while visiting.
Highlands announced other ways to create the perfect winter vacation from inside their Gatlinburg condos. They urge guests to use their standard amenities, including the stone fireplaces and private balconies.
Their key to having the perfect winter vacation is the mountain view. Perched on a hill and surrounded by the National Park, the Highlands Condominiums offers guests opportunities to enjoy the view from their rooms, balconies and indoor amenities, all which face the mountains.
Highlands Condominiums offer luxurious condos in the Smoky Mountains. Guests have a variety of floorplans to choose from and will enjoy the benefits of a private balcony and close access to Gatlinburg and Pigeon Forge.
For over 25 years Highlands Condos have provided guests with the ultimate relaxing mountain getaway. Owned and operated by married couple Mike and Cindy Werner, each of these spacious Gatlinburg condos showcase the impeccable views and luxurious amenities these units have to offer. Highlands Condos is located at 855 Campbell Lead in Gatlinburg, TN. For additional inquiries about Highlands Condos in Gatlinburg, please give us a call at (865) 436-3547, or visit our website at http://www.highlandscondos.com.