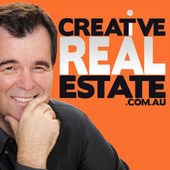 If you keep communications broad at the concept level, it works brilliantly.
(PRWEB) December 24, 2013
Real estate authority, Rick Otton, is renowned for sharing his strategies for property investment. During a recent Creative Real Estate podcast for Australian, New Zealand and UK listeners called 'Street Smart Secrets to Real Estate Wealth', the property investment mentor offered a range of unique strategies. These included negotiating the art of a successful transaction to knowing how to build relationships with real estate agents.
During the podcast, Mr Otton said new students often made the mistake of spending time on property transactions before getting a firm commitment from key stakeholders.
"No one is in it until the money comes across the table. So for example, if you've got buyers and there's no money on the table, they're just not in the game," he said. "They haven't invested any energy into their application."
The real estate educator said another common mistake from property investors first using his selling techniques was the tendency to use too many techniques at once, which had the effect of bamboozling potential buyers.
"If someone is trying to sell a house and they have multiple signs with multiple strategies, no one will call because they won't know which way he's going," Mr Otton said. "It's even worse when they confuse jargon with strategies, using terms like 'lease option' or 'vendor finance buyer'. The person who's looking at the sign won't understand the strategy and they won't call because no one wants to feel like a ning-nong!"
Getting real estate agents on board
Mr Otton said the same principles applied to dealings with real estate agents.
"If you keep communications broad at the concept level, it works brilliantly. If you get into the strategy, it's the kiss of death," he said.
"What I've always found works well with real estate agents is two things – paying their commission up front and getting their head around the concept that there'll be a delivery vehicle of a number of payments."
Mr Otton is best known for his low-risk, high-reward unconventional property investing strategies. The media personality and author is an advocate of positive cash flow and other strategies that don't require deposits, having bank debt or on a specific market condition for successful entry into the real estate market.
To hear this, and other free podcasts from Rick Otton visit CreativeRealEstate.com.au.
To download a free Power Property Profits Pack that includes Mr Otton's latest strategies and easy-to-copy tips, visit http://www.creativerealestate.com.au/freepack/
About Rick Otton
Australian property investment specialist, Rick Otton, has been developing, sharing and teaching his innovative real estate strategies for 23 years. As the founder and CEO of We Buy Houses, which operates in the US, UK, Australia and New Zealand he is known for introducing cutting-edge techniques that have enabled previously disenfranchised people to get out of the rental cycle and into their own homes.
His innovative low-risk, high-reward approach to Australian real estate investing has been featured in a variety of television programs and magazines, including Today Tonight, Hot Property and Australian Property Investor. His real estate book, published in 2012, ''How To Buy A House For A Dollar', voted by Money Magazine and Dymocks Book stores as one of the Top 10 Most Popular Finance Titles for 2013.
As well as conducting free seminars, workshops and conferences in the UK and Australia, Mr Otton releases a weekly podcast on iTunes, Creative Real Estate. In these he shares examples of real transactions, and you can listen to his students share their own experiences using his strategies.
Go to CreativeRealEstate.com.au to listen to Rick's free podcasts.