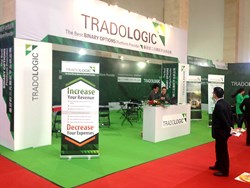 (PRWEB UK) 23 December 2013
TRADOLOGIC currently prepares for the next major international event the company will participate in and share binary expertise. After the success of the company's participation in Money Fair Shanghai last month, TRADOLOGIC decided to take part in the next financial expo of Shanghai – the 10th Investment and Financing Expo. This three-day event will take place in Shanghai Everbright Convention & Exhibition Center on 27-29 of December 2013.
The focus of the event will be finance, financial investment, investment advisory services, investment software and entrepreneurship. TRADOLOGIC will represent the binary option industry and how Asian investors can benefit from it. The company is the pioneer in this field and has a vast knowledge to share with event attendees.
TRADOLOGIC's team once again will have the opportunity to introduce its business in China as part of the company's strategy for global expansion starting from the Asian markets. TRADOLOGIC will present its innovative products and services among which are products especially designed to meet the requirements of the Asian financial trading market.
About TRADOLOGIC:
TRADOLOGIC is the global leader in the financial trading industry with technology built specifically for the binary options trading market. TRADOLOGIC's team pioneers in the binary option trading field and possesses a first-hand insight and deep knowledge about the financial trading industry. Currently, the company offers its clients a variety of products including option types, trading tools, advanced features, integration solutions and services that deliver outstanding trading experience and optimized user value.