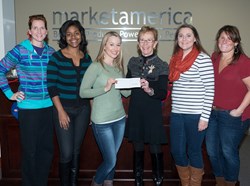 Greensboro, NC (PRWEB) December 23, 2013
Thanks to the efforts of Market America | SHOP.COM, one local non-profit agency has received more than $5,000 to continue its fight against breast cancer.
Kim Ashley, brand manager for Motives by Loren Ridinger cosmetics line, presented a check for $5,438 to Earlier.org – Friends for an Earlier Breast Cancer Test, a Greensboro-based non-profit organization dedicated solely to funding research to find an earlier biological test for breast cancer.
Throughout October, Motives and Isotonix – brands of Market America|SHOP.COM – pledged a portion of sales of two products – Motives Mineral Lipstick in Aware and Isotonix OPC-3 Beauty Blend – to assist the efforts of Earlier.org.
"Breast cancer has affected the lives of both Motives Cosmetics and Market America employees, Market America entrepreneurs and their families," said Ashley. "We are excited to be able to contribute to more research of earlier detection methods and in the end save lives."
Added Martha Kaley, founder of Earlier.org: "We are extremely appreciative of any donation that helps fund research for a development of a biological test to detect early breast cancer. This donation by Motives and Market America makes a huge impact for science and the continued research of breast cancer."
To learn more about Earlier.org – Friends for an Earlier Breast Cancer Test, please visit http://www.earlier.org/.
ABOUT MARKET AMERICA, INC. & SHOP.COM
Market America, Inc. is a product brokerage and Internet marketing company that specializes in One-to-One Marketing. Its mission is to provide a robust business system for entrepreneurs, while providing consumers a better way to shop. Headquartered in Greensboro, NC, the company was founded in 1992 by President and CEO JR Ridinger and has generated $5.3 billion in accumulated sales. Market America employs nearly 700 people globally with operations in the United States, Canada, Taiwan, Hong Kong, Australia, United Kingdom and Mexico. Through the company's shopping website, SHOP.COM, consumers have access to over 40 million products, including Market America exclusive brands and thousands of top retail brands. By combining Market America's entrepreneurial business model with SHOP.COM's powerful comparative shopping engine, Cashback program, Hot Deals, ShopBuddy™, social shopping integration and countless other features, the company has become the ultimate online shopping destination.
For more information:
United States: http://www.marketamerica.com or http://www.SHOP.COM
ABOUT MOTIVES BY LOREN RIDINGER®
Motives by Loren Ridinger, through revolutionary and cutting-edge technology, is a world leader in the customized cosmetics industry. Motives is worn by some of today's hottest celebrities and is a favorite of makeup artists, models and photographers. Motives by Loren Ridinger strives to empower people everywhere to look and feel beautiful inside and out, while providing thousands of consultants worldwide with an opportunity to live the lifestyle they have always dreamed of. For more information, visit http://www.MotivesCosmetics.com, Loren Ridinger's blog, My Fashion Cents, at http://www.MyFashionCents.com, and Loren's World, a lifestyle and empowerment website, at http://www.LorensWorld.com.
ABOUT EARLIER.ORG
Since its founding in 1995, Friends for an Earlier Breast Cancer Test® has worked and focused solely on earlier detection of breast cancer as opposed to focusing on a cure for the disease. Earlier detection may prevent invasive surgery, minimize treatment and dramatically increase survival chances.
###