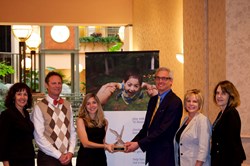 "Our organization has noticed the work Moose Pharmacy has been doing for years. The results they have achieved for their patients and community is one of the reasons our board of directors recognized them with this award." Robert Nauman, Dir.Op. NCAHC
Concord, NC November 26, 2013 (PRWEB) January 06, 2014
Moose Pharmacy was recognized by the North Carolina Alliance for Healthy Community (NCAHC) with the 2013 Eagle Award for their work on medication adherence and their role in keeping North Carolina communities healthy since 1882.
"Our organization has noticed the work Moose Pharmacy has been doing for years. The results they have achieved for their patients and community is one of the reasons our board of directors recognized them with this award," stated Robert Nauman, Director of Operations for NCAHC. Moose Pharmacy, originally established in 1882, has remained a family owned business over four generations with a mission of providing individualized, quality pharmacy services and the most cost-effective treatment options for patients.
The rising cost of medication and healthcare has forced every purchaser to get the most value for their dollars. Moose Pharmacy works with multiple members of the healthcare team to insure that their patients are optimizing their medication regimens and total care plans. By utilizing technology and old fashion hand holding, Moose Pharmacy continues to enhance the health of the communities it serves.
Serving Cabarrus, Stanly, Rowan and Mecklenburg counties, Moose Pharmacy works with primary care providers to ensure their patients are on optimal medication regimens. The pharmacists and staff at Moose Pharmacy make it a priority to ensure patients have access to and are comfortable with their prescribed medications. The NCAHC award recognized these efforts because the pharmacy delivered outstanding leadership and vision in the development of their innovative pharmacy services. Joe Moose, co-owner of Moose Pharmacy, said he was, "especially honored to see pharmacy acknowledged as a major contributor to improving the health outcomes of the residents of North Carolina. I am proud to have Moose Pharmacy named as a leader in providing excellent, patient-centered pharmaceutical care. My great-grandfather made a commitment to patient care in 1882, and we continue to honor that commitment today."
Moose Pharmacy— an independent, family owned pharmacy offering all of the services of a modern pharmacy while engaging in the small town principles of personal relationships and friendly service.
Contact Information:
Joe Moose, Co-Owner
Moose Pharmacy
(704) 784-9613
joe(at)moosepharmacy(dot)com