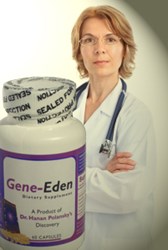 Some viral proteins can induce inflammation, affecting the lining of blood vessels, so that inflammation is in the right place to function as a significant risk factor for heart disease. - Professor Ron Glaser (2)
Rochester, NY (PRWEB) December 24, 2013
An article published on November 14, 2013 in The Times of India said that "Research shows that prolonged stress affects the body's immune system and triggers health problems (1)." polyDNA reviews the article and recommends helping the immune system target latent viruses with Gene-Eden-VIR.
Stress can cause the reactivation of herpes viruses, such as the Epstein Barr Virus (EBV). This reactivation can then cause damage to the heart. In fact, "Stress is a known predictor of reactivation of EBV, meaning virus reactivation could be a mechanism by which stress leads to chronic inflammation and eventually cardiovascular diseases," according to an article on ScienceDaily.com. The article was published on January 22, 2013 (2).
Authors of a study published in the medical journal PLoS One wrote that "The stimuli (an event that causes a specific reaction in an organ or tissue) known to participate in the reactivation of latent EBV are also known to participate in atherogenesis (blockage of the arteries) and the precipitation of acute coronary events (heart attack). Chief among these are emotional and psychosocial stress that have been shown to dysregulate immune repression of the virus allowing its replication and production." The study was published on January 17, 2013 (3).
In other words, long-term, chronic stress weakens the immune system and allows the virus to reactivate and begin reproducing. Study authors noted that the "Epstein Barr Virus (EBV) encodes an enzyme, deoxyuridine triphosphate nucleotidohydrolase (dUTPase), as part of the synthesis of early proteins following reactivation of latent virus (3)." These viral proteins specifically harm blood vessels and the heart by causing blood monocytes (a type of white blood cell) to produce a type of hormonal regulator called pro-inflammatory cytokines.
"…we know that some viral proteins can induce inflammation, affecting the lining of blood vessels, so that inflammation is in the right place to function as a significant risk factor for heart disease (2)," said study co-author Ron Glaser, professor of molecular virology, immunology and medical genetics.
Children and family, financial problems, major life changes, and many other factors can cause chronic stress, which could lead to a reactivation of EBV or another latent herpes virus. polyDNA recommends identifying daily stressors, and then working to remove as many of them as possible. Further, individuals should take Gene-Eden-VIR to target latent viruses, such as EBV.
A recent post marketing clinical study published in the peer reviewed, medical journal Pharmacology & Pharmacy, in a special edition on Advances in Antiviral Drugs on August 12, 2013 showed that Gene-Eden-VIR is safe and effective (4). Additionally, up to 70% of those studied reported a decrease in viral symptoms, and users experienced an increase in overall health (4).
Each ingredient of Gene-Eden-VIR was chosen through a scientific approach. Scientists scanned thousands of scientific and medical papers published in various medical and scientific journals around the world to identify the safest, most effective natural ingredients that target the latent EBV and other latent herpes viruses. (4)
To learn more about Gene-Eden-VIR and EBV, visit http://www.gene-eden-kill-virus.com/Herpes-Remedy.php. All orders of Gene-Eden-VIR are completely confidential, and no information is shared or sold to any third party. Privacy is assured.
Reference:
(1) Chronic stress affects immune system. Published on November 14, 2013.
http://articles.timesofindia.indiatimes.com/2013-11-14/health/43731411_1_immune-system-immune-cells-stress
(2) Viral Reactivation a Likely Link Between Stress and Heart Disease. Published on January 22, 2013.
http://www.sciencedaily.com/releases/2013/01/130122162331.htm
(3) Evidence for the Role of Epstein Barr Virus Infections in the Pathogenesis of Acute Coronary Events. Published on January 17, 2013.
http://www.plosone.org/article/info%3Adoi%2F10.1371%2Fjournal.pone.0054008
(4) Gene-Eden-VIR Is Antiviral: Results of a Post Marketing Clinical Study. Published on August 12, 2013.
http://gene-eden-kill-virus.com/PP_Gene-Eden-VIR-is-Antiviral.pdf
polyDNA is a biotechnology company that develops dietary supplements using the unique scientific method developed by Dr. Hanan Polansky, which is based on Computer Intuition.
In addition to his unique scientific method, Dr. Polansky published the highly acclaimed scientific discovery, called Microcompetition with Foreign DNA. The discovery explains how foreign DNA fragments, and specifically, DNA of latent viruses, cause most major diseases.
polyDNA developed Gene-Eden-VIR , an antiviral natural remedy that helps the immune system kill latent viruses.