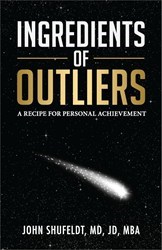 My goal was to write a book that would act as a surrogate mentor for people who want to alter their own stars, expand their opportunities and see the world and even themselves through a different set of lenses- John Shufeldt
Phoenix Arizona (PRWEB) December 30, 2013
In celebration of National Mentorship Month Outliers Publishing, publisher of the book Ingredients of Outliers: a Recipe for Personal Achievement, written by John Shufeldt, MD, JD, MBA, will be providing a free mentorship matching program during the month of January called "Outliers Making Outliers." According to the book published in June, an outlier is "an exceptional person for whom excellence is merely a starting point toward a destination far beyond our normal definition of achievement."
The mentorship matching program will be available at no cost to prospective mentees of all ages and career stages – pre-career, working full-time or unemployed – who want to be matched with an expert in any job field in the greater Phoenix area. Outliers Publishing is also seeking additional mentors to be added to their database who meet pre-determined qualifications and are willing to meet with a prospective mentee for a minimum of four, one-hour sessions.
The program will launch January 1, 2014 and continue through January 31, 2014.
Regarding the newly published book Ingredients of Outliers as it relates to mentorship, Dr. John Shufeldt says, "My goal was to write a book that would act as a surrogate mentor for people who want to alter their own stars, expand their opportunities and see the world and even themselves through a different set of lenses. Ingredients of Outliers is written for individuals who want to learn from those who are at the top of their game in their respected fields of endeavor." Ingredients of Outliers is the first book in the Outliers Series and will be followed by at least 8 more books that relate to becoming an "outlier" in several respective career fields, like medicine, sports, entertainment, writing and even a book geared towards a high school or college audience on becoming an "outlier."
"I've been so fortunate as to be impacted professionally and personally by 2 or 3 mentors over the last 10 years. Sadly some people never have the experience of being mentored," said Amanda Pacion, Director of Operations at Outliers Publishing.
Interested prospective mentors and mentees should complete the online contact form at http://www.ingredientsofoutliers.com/contact/ and enter their name, phone number and desired career field. They will be asked to complete a profile that will be used to match the large network of qualified professionals with those seeking mentorship.
About Ingredients of Outliers:
Ingredients of Outliers is a guide packed with accounts from author John Shufeldt's personal endeavors, as well as those of historical figures and influential acquaintances. Ingredients of Outliers is a compilation of thoughts, tips and techniques to guide individuals toward finding the ingredients for the "secret sauce" that makes a someone stand out as an outlier. Ingredients of Outliers is the foundational book of The Outliers Series. The books in this series will include how to guides and interviews with experts and everyday outliers from every career imaginable such as Medicine, Law, Sports, Writing and much more.
Learn more at: http://www.ingredientsofoutliers.com